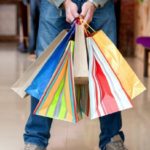 Today KID celebrates National Thrift Shop Day. Thrift shops are important community resources in that they offer discounted items, more sustainable shopping options, and encourage donation over disposal. However, not all used items are safe to use, especially for children. Before you run out to your local thrift shop today, we want to make sure you have the information you need to buy and sell used items safely.
Certain categories of products are no longer considered safe for any children. These include baby walkers, bath seats, crib bumper pads, and sleep positioners. Avoid these products new or used.
Car seats and bike helmets are unsafe to re-use if they have been in an accident. With these items, it's hard to tell whether they have been damaged in the past. Do not buy these items secondhand.
Check whether or not used cribs were manufactured after June 28th, 2011. Only these cribs meet the current crib safety standards. There are similar updated safety standards for play yards and bassinets that should be followed. If the instruction booklet is missing, you can usually find a copy online at the manufacturer's website. Register those nursery products while you are on the site.
Avoid buying or donating items that have broken or missing pieces, and remove any drawstrings from clothing – they are strangulation hazards.
Make sure products you are interested in have not been recalled by checking them at gov. You can also check SaferProducts.gov for safety reports from other consumers – even for products that haven't been recalled.
Remember that these tips still apply if you are thrifting in online mediums such as Facebook Marketplace, eBay, or various social media pages/apps that offer secondhand goods.
Keep an eye out for other shoppers — If you notice any of these hazards as you're shopping, don't hesitate to mention them to store employees.
Print out and bring our Buy & Sell Safety checklist (in English & Spanish) to make sure you remember all of our safety tips on the go.
Follow Kids In Danger on Facebook, Twitter, and Pinterest to stay up to date on all of our safety tips.