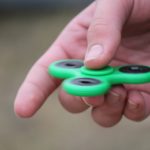 New fidget spinner business guidelines and safety tips were recently released by the U.S. Consumer Product Safety Commission (CPSC). For parents and caregivers, it is important to know that the CPSC categorizes most fidget spinners as "general use" products, not toys. Those marketed primarily to children under 12 are classified as toys, but for older children so no warning needed for small parts.  Fidget spinners are therefore unlikely to have safety labeling such as  small parts warnings.
Both plastic and metal fidget spinners may present choking hazards. Without clear warnings or safety standards, caregivers must be proactive about how to keep children safe from these hazards. Here are a few guidelines to consider for fidget spinner use:
Keep fidget spinners away from young children, especially those under 3 years of age.
Warn older children not to put fidget spinners near or in their mouth. Accidents can happen at any age. The CPSC has received reports of children up to age 14 choking on fidget spinner parts.
Battery-operated fidget spinners can present additional hazards. For battery-operated fidget spinners specifically:
Do not overcharge the fidget spinner – unplug them as soon as they are fully charged. If overcharged, the fidget spinners can catch on fire.
Never leave them alone while charging, which includes charging them overnight.
Always charge the fidget spinner with the same cable that came with it. If it did not come with a cable, check that it is being charged with the correct type of cable before plugging it into an electrical outlet.
Check your smoke alarms at home before purchasing a battery-powered fidget spinner.
Manufacturers have the option of labeling fidget spinners as a children's product if they market the product specifically towards children under age 12. If they choose this option, the fidget spinners must comply with certain standards such as lead and small parts labeling (only if sold to children under 6), according to the CPSC. Read Acting Chairman Ann Marie Buerkle's official statement on fidget spinners here.
If you do encounter an issue while using a plastic, metal, or battery-operated fidget spinner report that incident to SaferProducts.gov.
KID will continue to follow incidents involving fidget spinners and new safety guidelines. Sign up for our Email Alerts and follow us on Facebook, Twitter, and Pinterest to get the latest updates.
Updated on August 22, 2017: the italic section above was edited to reflect clarification from CPSC.