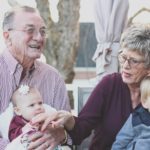 Grandparents are role models, teachers, and caregivers in many capacities. Today we celebrate all the love, care, and hard work grandparents put into raising their grandchildren.  At KID, we recognize and honor the wealth of knowledge that grandparents have regarding caregiving.
A good outing or activity with the grandkids is a perfect way to celebrate your care, love, and contributions to family. We've come up with a list of activities to do, and how to make sure your grandkids stay safe during them!
View KID's brochure, Are your Grandkids SAFE? (available in English and Spanish) for children's product safety information tailored for grandparents. To learn more about KID's outreach efforts to grandparents , visit our Grandparent's Page.
Sign up to receive KID's monthly email alerts, which include a list of all of the children's products recalled each month, as well as other product safety news. Follow KID on Facebook, Twitter, Pinterest, and Instagram for more safety updates.