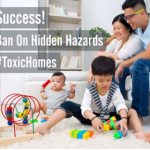 Last week, the Consumer Product Safety Commission (CPSC) took steps to protect consumers from a class of flame retardants known as organohalogens. This ruling came after KID, along with other consumer, healthcare, firefighter, and science groups, petitioned the CPSC to take action. This ruling marks the first time a federal agency has moved to outlaw an entire class of flame retardants due to public health and safety concerns.
Organohalogen flame retardants (OFRs) are a class of flame retardants that are commonly added to children's products, mattresses, electronic casings, and furniture to reduce flammability. These toxic chemicals can cause adverse health effects in consumers, including cancer, decreased IQ in children, impaired memory, learning deficits, hyperactivity, hormone disruption and lowered immunity. Unfortunately, these chemicals are very common. In fact, 97% of U.S. residents have measurable quantities of toxic organohalogen flame retardants in their blood. Children are particularly at risk of developing adverse health effects, and actually have levels of OFRs in their blood that are three to five times higher than in adults.
Going forward, the CPSC will begin rule-making to ban the sale of certain categories of products, including durable infant and children's products, if they contain OFRs. On September 28th, 2017, the CPSC also issued a strongly-worded guidance warning the public of the hazards associated with OFRs.
Members of the petitioning groups reminded us that this victory demonstrates the strength of broad and diverse coalitions. When a wide range of stakeholders – consumer advocates, firefighters, environmental scientists, and more – come together, it has the power to effect lasting change. Petitioning groups also situated this victory within the greater political context. As KID's Executive Director, Nancy Cowles, has discussed on our blog, regulatory efforts are meeting increased resistance under the current presidential administration. This difficult climate makes this victory all the more impressive.
Removing toxic chemicals such as these from our products is a crucial step towards allowing all young people to growth and thrive, and we are glad to see the CPSC prioritizing children's health and happiness. Read the CPSC's statement to consumers here. For additional news coverage of this ruling, click here.
Continue the conversation around OFRs by following KID on Facebook and Twitter and using the hashtag #ToxicHomes. You can also stay up-to-date on this issue and other product safety news by signing up for KID's email alerts.