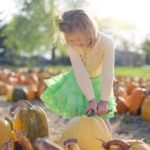 It's that time of the year again – Jack-o-Lanterns line the streets while spooky ghosts and ghouls roam from house to house collecting their treats. However, some aspects of the holiday can also pose certain hazards. According to the CPSC, there have been at least 16 cases since 1980 in which children under 15 suffered burn injuries involving Halloween costumes. Children are also more than twice as likely to be hit by a car and killed on Halloween as on any other day of the year. Read below for tricks and tips to stay safe this Halloween:
Choose flame-resistant costumes. According to the U.S Consumer Product Safety Commission, all costumes and accessories are required to be labeled as flame-resistant. Don't forget to check the labels of your costumes to make sure the one you choose meets current guidelines. If you're making your own costume, choose common flame-resistant materials such as polyester and nylon. For more information on Halloween costume hazards, click here.
Stop, drop, and step away from the Jack-o-Lantern. Even flame-resistant costumes can catch on fire if they come into contact with open flame, especially if they have loose and flowing parts. In order to avoid contact with open flame, remember to wear costumes that are fitted and avoid baggy and loose materials.
Stay visible to drivers. Halloween is the most dangerous night of the year for child pedestrians. Help your child stay visible to drivers by providing flashlights or glow sticks, or by lining their costume with bright, reflective tape.
Don't hide your face: use makeup instead of a mask. Masks and other accessories that cover a child's face increase the risks of tripping and/or choking, especially if the mask is secured with a tie. Costumes and masks should not obstruct vision or movement. Instead, choose to get creative with your child by face painting.
Additionally, you can check your Halloween costumes and decorations for recalls by visiting CPSC.gov. Review consumer reports at SaferProducts.gov to get more safety information about products that haven't been recalled.
By following these simple precautions, your family can enjoy a spooky, fun, and safe Halloween. Follow KID on Facebook and Twitter for more Halloween safety tips.