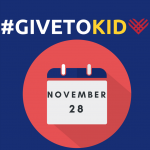 As in years past, KID is joining charities across the world to participate in #GivingTuesday on November 28, 2017. On this annual day of giving, people across the globe demonstrate the power of communal action by supporting the causes that are important to them.
In that spirit, we invite you to #GiveToKid. Our goal is to raise $10,000 to fight for children's product safety on #GivingTuesday. We have even more good news – if you are a new donor, or if you increase your donation, the Reva and David Logan Foundation will match your gift, doubling the impact of your support.
All donations support KID's efforts to make children's products safer. Every year, we host safety workshops for parents, caregivers, and healthcare professionals; we publish reports based on our ground-breaking research; and we reach tomorrow's product designers through our innovative TEST program, which encourages engineering students to combat danger with design.
These are uncertain times for product safety. KID needs your donation today to keep speaking out for safety. With your help, we can continue serving as a voice for parents and make an even greater impact on children's safety. Click here to show your support for KID!
Children need KID and KID needs you. Give today. For more information on product recalls, sign up for our email list or follow us on Facebook and Twitter.