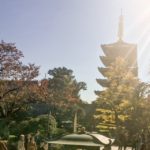 November 2017 involved a lot more international outreach than we are used to at KID.  But we hope that the outcome will be safer children's products both here in the US and worldwide.
It started with a meeting in Paris: the OECD Working Party on Consumer Product Safety.  KID ED Nancy Cowles was invited to present our research on recalls and recall effectiveness.  Nancy spoke of our data on US Consumer Product Safety Commission (CPSC) recalls of children's products – and the rate at which those products are returned or repaired.  In sum – everyone needs to do more to get known hazardous products out of the homes of consumers and off store shelves.  Sydney Lucia of CPSC reported on the recall effectiveness workshop held by the agency this summer – although a summary or recommendations from the workshop are not yet available.  Other jurisdictions spoke of research, marketing ideas and other work going on worldwide to improve recall effectiveness.
Then, Nancy joined others in the product safety community at the annual ICPHSO International Symposium, this year in Tokyo, Japan.  This year's symposium, It Started with an Idea: Safety in the Product Life Cycle, focused on innovation, connected products and new approaches to safety.  We heard from about Japan's current efforts on consumer safety and had much discussion on how to keep products safe as technology is moving so quickly.  KID presented on new approaches to warnings and how risk is perceived by consumers.
Here in the states we joined Illinois PIRG at the annual release of Trouble in Toyland – their report on toy safety. The report highlighted their discovery of fidget spinners with astronomical lead levels – some 300 times the limit for toys. But there's the rub – CPSC had determined that fidget spinners are not toys – unless their packaging or marketing specifically targets children.  To their credit, Target, where the spinner toys were found, removed them from shelves and will test their other products now to assure compliance with the lead level for children's products.  The report also highlighted connected toys for the first time, calling out possible security and safety issues with unsecured Bluetooth connections and recording children's conversations.
The month ended with a quick trip north of the border to talk to a media outlet about children's product safety.  We'll share that piece when it is released. And KID's Program Director, Carson Gaffney was in Minneapolis at the annual Midwest Injury Prevention Association Summit.  She put together a panel on pediatric window falls and prevention measures.
Now, in December, like many of you, we'll be focusing on holiday and travel safety and getting ready for 2018 – our 20th anniversary year! Keep up with us on our email list or follow us on Facebook and Twitter.