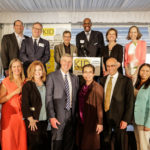 At the beginning of 2017 KID discussed a few goals that we had for the new year. These included expanding safe sleep environments, advocating for stronger furniture stability standards, and improving accessibility of KID. Read below to understand ways we worked to achieve those goals and more in 2017.
February – KID participated in the annual ICPHSO Symposium, giving vital consumer input to product safety stakeholders. It was the end of KID ED's Nancy Cowles' term as president.
April – KID released an annual report on product recalls and children's safety alongside Illinois Attorney General Lisa Madigan, US PIRG and Illinois Action for Children.
Ohio bans the sale of crib bumper pads statewide, joining Maryland and Chicago.
May – Choking Hazards: Are Current Product Testing Methods for Small Parts Adequate?, a KID research report, was published in the peer-reviewed International Journal of Pediatrics.
KID's Program Director, Carson Gaffney, travelled to Flatwoods, West Virginia to present our newest safety workshop, Is This Safe? A step-by-step guide to assessing infant sleep products, to 100 representatives from hospital and home visiting programs across the state — crucial points of contact for new parents in creating safe sleep environments. Get the checklist here.
June – After 19 years of leading KID, Linda Ginzel stepped down as President and the board elected Shawn Kasserman as KID Board President.
KID joined with Consumer Federation of America, Shane's Foundation and parent advocate Janet McGee to send a letter to US CPSC Acting Chairman Buerkle, asking her to work with IKEA on the anniversary of the IKEA recall of 29 million dressers.
September – KID published a report on children's products recalled for fire and burn hazards in the past 10 years to raise awareness and promote safety.
October – KID joins with CPSC to call upon IKEA to do more to ensure safer products in response to an eighth death from unstable dressers.
November – KID transitioned to a new logo and slogan "fighting for product safety"
Following an additional death and pressure from consumer advocates, IKEA and CPSC announced a recall of their MALM dressers.
KID went international when KID ED Nancy Cowles was invited to present our research on recalls and recall effectiveness in Paris at the OECD Working Party on Consumer Product Safety.
December – KID prepares to celebrate their 20th anniversary and the birthday of Danny Keysar. Danny's parents founded KID after Danny was entrapped under his portable crib while at daycare. Danny died at 16 months and would have been 21 this December. The work we do at KID began with Danny's story and continues for safer products for all children and families. Support KID as we mark 20 years and counting of fighting for product safety.
As we think about the year to come, what goals would you like to see KID focus on in 2018?
For more information on how KID is doing today follow us on Facebook and Twitter, or sign up for our email alerts.