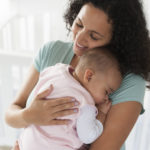 Many expanding families rely on baby registries to stay organized and get everything they need for their new child. Many websites offer comprehensive lists of the "essentials." However, we receive many questions from expectant parents about making sure that they only register for the safest products. Follow these tips when selecting products for your registry:
Cribs and other sleep products
Whether you are shopping for a crib yourself or choosing one to add to your registry, check that your newborn's crib was manufactured after June 28th, 2011, to ensure that it meets current standards.
Don't be tempted to add comforters or crib bumper pads to your registry. While this might seem cozy, they put infants at risk for suffocation and SIDS and don't belong anywhere need their crib. Instead, opt for these items: a mattress, fitted sheets, a waterproof pad, and wearable blankets.
When it comes to safe sleep, #BareIsBest. For more guidelines on safe sleep products, check out KID's safe sleep checklist.
Clothing and accessories
Avoid clothing with drawstrings, which pose a strangulation hazard.
Small sewn-on accessories and embellishments are also potential choking hazards.
Safety Standards & Childproofing
Remember that while most children's products are subject to standards through the Consumer Product Safety Improvement Act of 2008 (CPSIA), a few, such as high chairs, are not. When registering for high chairs and other similar items, check that they do meet ASTM standards.
Even homes with safe products likely require certain standard childproofing measures. Add childproofing tools, including tip-over kits and window guards, to your registry so that you can start childproofing early.
Hand-me-downs
Secondhand items offer options for expectant parents, friends, and family to save money and give a second life to otherwise retired baby gear. However, be way when accepting secondhand products for your children. Some outdated baby supplies may not meet current regulatory standards.
Other products, including bike helmets and car seats, should never be used secondhand, as they may not protect adequately in the event of a crash.
Compare second hand items against recalled products by checking gov or other reports found at saferproducts.gov before placing them in the nursery.
For more information about current children's product standards, visit CPSC.gov or review KID's Children Product Safety Guide.
Stay up-to-date with more product safety information by subscribing to KID's monthly email alerts and following us on Facebook and Twitter.