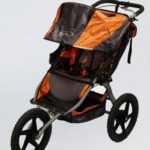 Late last week, the US CPSC voted 3-1 to file suit against Britax to force action on B.O.B. jogging strollers made prior to 2015. According to the complaint, these strollers have caused injury to both children and adults when the front wheel disengages and the front fork hits the ground causing a sudden stop and instability. Britax bought B.O.B. in 2011 and imported the strollers through 2015.
According to the complaint, there were at least 200 reports of the wheel detaching, including 97 injuries – about half each to children and adults. Injuries include concussions, lacerations, head and dental injuries in children and fractured bones and torn ligaments in adults.
CPSC rarely sues companies for recall action, although they have a few times in the past – including Nap Nanny and Zen Magnets. This action is a measure of last resort since the Consumer Product Safety Act's Section 6(b) keeps CPSC from alerting consumers to the hazard except when there is a recall or a court action to push for one.
Britax is refusing to recall the item – saying it is safe when used as instructed. However, they also say they trust their consumers to use the product safely – while ignoring the fact that those injured are also their consumers.
So what is a parent to do? Britax says to just follow their directions on use – but CPSC's complaint says, "In numerous instances, the instructions accompanying the Stroller do not mitigate this risk," and that visual inspection does not allow the user to know that the wheel is attached correctly.
We recommend treating this as a recall without a remedy – meaning to stop using the product until the issue is resolved and a fix is provided. Several other manufacturers have had similar recalls and provided a fix.
The ASTM International sub-committee on strollers is working to add performance requirements to eliminate this hazard.
Also, if you have had an incident with this or any stroller, report it at SaferProducts.gov. This information is public so other consumers can review the incidents even before a recall or CPSC has to resort to a lawsuit.
We'll keep you posted as more develops.