Attention sling users, CPSC's new standard for slings has gone into effect as of January 30th. This new standard is an update of the standard adopted last year by CPSC for infant carrier slings. Infant carrier slings can pose a suffocation risk to infants, and so the new standard focuses on suffocation hazard warning labels. It's been reported that between January 2003 and September 2016, 159 incidents happened involving sling carriers, including 17 deaths and 67 injuries. The new standards will minimize the risks of suffocation.
The new standard includes: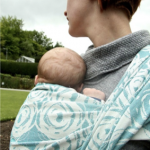 All infant slings must have a permanent warning  abel and come with – instructions to show the proper position of the child in the sling. The warning must include statements around suffocation hazards and prevention measures, the hazards of children falling out of slings, and a reminder for caregivers to check the buckles, snaps, rings, and other hardware to make sure no parts are broken.
The sling must be able to carry up to three times the manufacturer's maximum recommended weight.
The sling must be durable to avoid seam separations, fabric tears, and breakage
The sling must keep the child from falling out of the sling during normal use.
If you own a sling or are about to purchase one, check that it meets these new federal standards to ensure your infant's safety. Then follow these safety precautions:
 The infant's face should not be covered and must be visible at all times
If nursing a baby in the sling, change the baby's position after feeding so the baby's head is facing up and is clear of the sling and the mother's body
Check the baby in the sling frequently to make sure nothing is blocking the baby's nose and mouth.
For updates on this issue and other product safety news, follow KID on Facebook and Twitter.