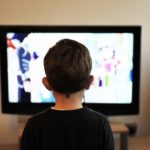 As many families gather for this weekend's big game, take time to check your TV is secured to avoid a tip-over. Securing the TV is an often-overlooked safety check for parents and caregivers of young children. Increasingly, TV tip-overs have been reported to lead to serious head injuries, broken bones, and even death. In fact, one child dies in the U.S. due to TV tip-overs every three weeks. Any type of TV can pose a tip-over risk. Flat screen TVs tip easily due to their narrow base, and box style cathode-ray tube (CRT) TVs can cause greater injuries due to their weight. When TVs are placed on top of furniture, it's possible for children to climb the furniture and cause both the furniture and the TV to tip, increasing the risk of injury.
Follow these recommendations to prevent TV tip-overs:
All TVs should be secured to the wall. Use safety straps or brackets for CRT TVs and wall mounts for flat screen TVs
Only place TVs on furniture designed to support televisions, such as TV stands and entertainment centers. Dressers, armoires, and chests of drawers are not safe places for TVs
Secure TV stands and entertainment centers to the wall using safety straps or brackets.
Do not place toys or the remote control on top of furniture or the TV. Your child could climb the furniture to reach the item and cause the TV and furniture to tip.
Check that TVs are safely secured in other places your child spends time, including the homes of family, friends, and caregivers.
As Super Bowl viewing parties begin and your family gathers around the TV, secure it so that your child can safely enjoy the program. #AnchorIt
For more information and resources about TV tip-overs click here. To stay up-to-date on this issue and other product safety issues, follow KID on Facebook and Twitter. Subscribe to our monthly email alerts by clicking here.