Today's #FamilyVoicesFriday post is dedicated to Ted. This week marks what would have been Ted's fourth birthday. However, Ted was tragically killed just before his 2nd birthday.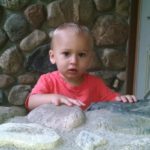 Ted's mom, Janet, remembers her son with these words: "Ted was a beautiful and carefree 22-month-old. He loved playing with his brothers and cousins and had a special bond with our family dog, Chloe. Our day on Sunday, February 14, 2016, started out like a normal day. We went to church in the morning. Since it was Valentine's Day, the day of love, our church handed out chocolate candy on the way out. Ted enjoyed his on the way home and had chocolate smeared on his face when we pulled in the garage. It was so adorable. I remember thinking what a great day it was going to be."
Later that day, Ted was killed when a six-drawer IKEA MALM dresser tipped over on him. Ted's death would later lead to the largest furniture recall in history — the IKEA recall of 29 million dressers, including the MALM line. We now know that eight children, including Ted, were killed as a result of these dangerous dressers.
Since Ted's death, his family has joined the families of other tip-over victims to raise awareness and change standards. In fact, Janet and Lisa Siefert of Shane's Foundation will join KID's Executive Director, Nancy Cowles, at a CPSC priorities hearing next week to discuss furniture tip-over prevention.
It's this type of advocacy from parents and families that leads to change. Together, we will continue to push for a mandatory furniture safety standard to prevent these tragic deaths and honor Ted's memory.
To read more about furniture tip-over hazards visit our Product Hazard page on furniture tip-overs. Visit Janet's website here. Learn more about the IKEA recall here.