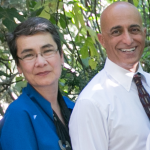 This week, KID will be holding our annual Best Friend Award Night, marking our 20th anniversary!
Each year, KID commemorates our progress, honors the memory of Danny Keysar and other victims of unsafe children's products, and highlights the contributions of our Best Friend — someone who has helped keep children safe. This year we are marking KID's 20-year anniversary as we present the 2018 Best Friend Award to KID founders Linda Ginzel and Boaz Keysar. Linda and Boaz founded KID after their 18-month old son Danny was fatally entrapped in a recently recalled crib at his childcare center.
Linda and Boaz founded KID after discovering that the death of their son was not an accident but was the result of a flawed system. Devastated by the loss of their son and the injustice of the recall system, Linda and Boaz mobilized their grief into action. They founded KID in an effort to improve recall effectiveness and educate other parents about the dangers of unsafe children's products. For 20 years KID has been dedicated to protecting children by fighting for product safety. The mission of KID is to save lives by enhancing transparency and accountability through safer product development, better education and stronger advocacy for children.
This year KID is honoring Linda and Boaz for their 20 years of progress. Since Danny's death, the resulting force and mobilization has changed the landscape of children's product safety. Just 10 years after KID began their efforts, a 2008 bill was passed which included various provisions to improve child product safety. A key portion of the legislation, dealing with the safety of juvenile products such as cribs, high chairs and strollers, is named in Danny Keysar's honor.
The KID Best Friend Award Night brings together community leaders, safety advocates, families and KID supporters. The funds raised at this event allow us to continue our valuable outreach and provide a strong voice for safety.
Lisa Parker, NBC Chicago Consumer Investigative Reporter will be the Emcee with Amy Kelly as auctioneer. As part of the event there will be a live auction along with a raffle drawing for five amazing baskets. If you'd like to join in on the fun and support KID, click here for tickets to join the event. Also, be sure to check out updates from the event on Facebook and Twitter!