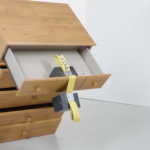 Consumer Reports has recently released new research on the dangers of furniture tip-overs. CR analyzed thousands of incident reports from CPSC to better under the circumstances of injuries and deaths caused by furniture tip-overs. CR tested 24 dressers and chests based on current voluntary standards, as well as a test based on a more stringent hypothetical standard. Additionally, as the current standard does not cover all dressers; CR tested a selection of dressers under 30 inches in height. This testing and report mirrors very closely those released by KID in August 2016.
CR believes the current standard (testing whether furniture will tip with 50 pounds hanging from an open drawer) is inadequate. KID concurs with this finding, as there are many at-risk children that weigh more than 50 pounds. Interestingly, however, CR's report found that there were many dressers that could pass not only this test, but also their more stringent test of staying upright with 60 pounds of weight hanging from an open drawer. This is supported by the testing conducted by KID two years prior. To this, James Dickerson, chief scientific officer at Consumer Reports, said, "Clearly, the marketplace has found that one can design a dresser at various prices that is safer and more stable." Although CR believes there is no one formula for stability, they found that heavier, back-weighted, deeper dressers with less drawer extension tended to be more stable. This echoes the findings of KID research, as the dresser units that performed well on tests had heavier back panels, wider base, or interlocking drawers.
CR's found that the current voluntary standard places too heavy a burden on consumers to prevent tip-overs. KID, CR, and other advocates are joining together to demand a more effective and mandatory standard. Until these changes are made, both CR and KID conclude that anchoring dressers, furniture, and TVs is the most effective way to prevent tip-overs. We join CR in calling for more information on furniture safety and ways to anchor furniture.
This week, KID's executive director, Nancy Cowles, joined Lisa Seifert of Shane's Foundation, and Janet McGee, in Washington, D.C. to testify at a CPSC Priorities Hearing on the importance of addressing this hazard. Join the fight by signing this petition demanding stronger industry-wide standards to prevent tip-overs. These standards include furniture to be tested with 60 pounds of weight and to have dressers 30 inches and shorter be tested. Click here to sign. Click here for more information on this hazard.
For up-to-date information on product recalls, sign up for our email alerts or follow us on Facebook and Twitter.