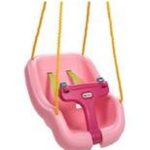 On Tuesday, along with Illinois Attorney General Lisa Madigan and Illinois PIRG, KID released new data on product recalls and children's safety. This year, the number of recalls increased by 22%, while injuries and incidents reported prior to recall decreased from a spike in 2016.
The annual recall report, A KID Report: 2017 Children's Product Recalls and 2016 Recall Effectiveness, looks specifically at the recall data for 2017, and identifies the challenges of assessing 2016 recall effectiveness. This year's report found that there were 93 children's product recalls, a 22% increase from 2016, and over 11.8 million total units of children's products recalled in 2017.
In 2017, it took an average of 17.5 reported incidents before dangerous products were pulled from the shelf. This is down from a high of 66 in 2016, but still too many incidents and injuries are reported before dangerous products are recalled. Although injuries associated with recalled products decreased from 394 in 2016 to 153 in 2017, there were multiple products that had dozens of injuries associated with them:
Magnetic Dry Erase Boards (a teaching aid) were recalled due to laceration hazard after 40 injuries were reported.
Little Tikes 2-in-1 Snug n' Secure pink toddler swings were recalled due to fall hazard after 39 reported injuries.
Britax B-Agile and BOB Motion Strollers were recalled due to fall hazard after 26 injuries were reported.
Helix Pool Slides were recalled due to fall and laceration hazard after 15 reported injuries.
However, this past year marked the second year in a row that no cribs were recalled. We attribute this major feat to the breakthrough 2008 Consumer Product Safety Act (CPSIA), a key section of which is named for Danny Keysar, whose parents founded KID. CPSIA sets strong national standards for product safety, and the strong new crib standards have made today's cribs safer than ever.
More companies are reaching out to consumers about recalls through social media. We found that 69% of companies with a Facebook used to it contact consumers about dangerous products and how to receive refunds or repair kits. The U.S. Consumer Product Safety Commission also joined Facebook this year, where they posted about 75% of recalled children's products. KID believes that CPSC should be posting about 100% of recalls.
"KID has been reporting on children's product recalls since 2002. As we approach our 20th anniversary this year it is disheartening we don't appear to be much closer to effective recalls now despite enormous leaps in communication resources to reach consumers," stated Nancy Cowles, Executive Director of KID. "We need better data to evaluate recalls, more transparency to get relevant information to consumers, and a commitment from CPSC and industry that 100% return rate is their goal."
KID will continue to work to provide consumers, manufacturers, and policymakers with the information they need to increase recall effectiveness, broaden consumer awareness, and decrease incidents, injuries and deaths related to children's product recalls.
We recommend that parents check SaferProducts.gov for recalls and injury reports and sign up for safety updates at KidsInDanger.org. Parents should also report problems with a product both to the manufacturer and to CPSC at SaferProducts.gov, and urge policymakers to make strong standards and recall effectiveness a priority.
Read the full report here.
For up-to-date information on product recalls, sign up for our email alerts or follow us on Facebook and Twitter.