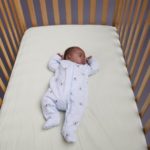 A recent report from Pregnancy Risk Assessment Monitoring System released data from 2015 which measured how moms chose to put their babies to sleep. The report, which is available here, shows some areas of improvement surrounding infant sleep, including a decrease in the percentage of moms who use bumper pads and sleep positioners. In 2012, 27.4% of moms used bumper pads in the cribs of their infants. The 2015 data shows that percentage dropping from 27.4% to just 15.6% of parents using bumper pads. For KID, this tells us that parents are being educated about the dangers of crib bumper pads, and that there is still more work to be done to address the 15.6% of babies who still sleep in cribs with bumpers.
The data from the report also showed that some moms are continuing to co-sleep with their babies. These numbers demonstrate the misconceptions and myths that continue to perpetuate unsafe sleep environments in U.S homes. Read below to remind yourself and others about the safest sleep environments for new infants, and be sure to share this post in an effort to improve the statistics and protect infants against hazards while sleeping.
Safe Sleep Environments for New Babies
Follow the ABC's of safe sleep: babies should sleep Alone, on their Back, and in a Crib that hasn't been recalled and meets current safety standards. Only cribs that were manufactured after June 28th, 2011 will meet the strictest safety standards. Check for recalls at www.CPSC.gov.
The only item in the crib should be a firm mattress and tight-fitting sheet. Otherwise, #BareIsBest. There shouldn't be any other bedding in the sleep space, including crib bumper pads, blankets, pillows, or stuffed animals.
These precautions can help protect against Sudden Infant Death Syndrome (SIDS). SIDS is the leading cause of infant mortality and choices about infant sleep environments are crucial risk factors to address.
Share the report and spread the word about safe infant sleep environments for new babies. KID's goal is to promote safe sleep through education and advocacy so that more significant changes are seen in future reports, more caregivers are educated on safe sleep, and less infants are put at risk.
For a full list of the most current safe sleep recommendations, visit the American Academy of Pediatrics (AAP) site. You can also sign up for KID's email alerts and follow us on Faceboo and Twitter to stay up-to-date on safe sleep and other product safety news.