We've already seen a few dozen children's product recalls in 2018. At this time of year, KID likes to highlight the biggest recalls of the year, so far. Checking your products for recalls regularly will protect your children from common hazards. If you find that you have any recalled products, you should stop using them immediately, and contact the manufacturer for information about refunds or repairs.
The following are the most significant recalls to date in 2018: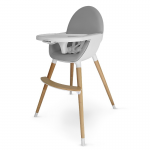 Tuo Convertible High Chair
7,900 units recalled, 13 incidents
Skip Hop recalled Tuo Convertible High Chair on January 9, 2018 because the front legs on the high chair can detach from the seat, posing fall and injury hazards to children. To contact Skip Hop, call 1-888-282-4674 or visit their website www.skiphop.com.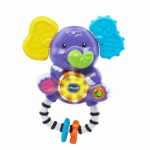 VTech Shake and Sing Elephant Rattle
280,000 units recalled
Vtech recalled these infant rattles on January 25, 2018 as the ears on the rattle can break off, posing a choking hazard to young children. If you are still possession of this toy, please contact VTech at 800-521-2010 or vtechkids.com.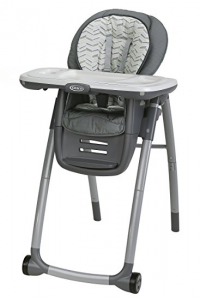 Graco Table2Table 6-in-1 High Chairs
36,000 units recalled, 38 incidents
On March 1st, 2018 Graco recalled Table2Table 6-in-1 High Chairs due to the rear legs pivoting out of position making the chair unstable and posing a fall hazard to a child in the highchair. To participate in the recall call 800-345-4109 or visit www.gracobaby.com.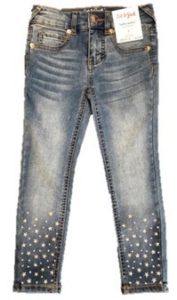 Topson Downs Cat & Jack Girls' Star Studded Skinny Jeans
30,000 units recalled, 6 incidents
Topson Downs recalled the Cat & Jack Girls' star studded Skinny Jeans on March 7, 2018 as the metal stars can detach, posing a laceration hazard. Contact Topson Downs at 800-440-0680 or visit the Target website: www.target.com.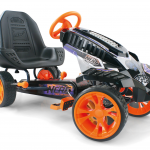 Hauck Nerf Battle Racer Go-Karts
26,300 units recalled, 639 incidents
Hauck Fun For Kids recalled their Hauck Nerf Battle Racer Go-karts on May 18th because the steering wheel can detach, break or crack while in use. Once broken, the wheel poses a laceration and/or collision hazard to young children. Contact Hauck by phone at 877-428-2545 or www.hauck-toys.com.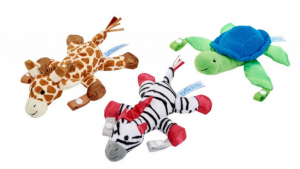 Dr. Brown's Lovey Pacifier and Teether Holder
590,000 units recalled, 1 incident
Handi-Craft recalled Dr. Brown's Lovey Pacifier and Teether Holder on March 15, 2018. The snap can detach from the pacifier ribbon, posing a choking hazard to young children. Contact Handicraft at 833-224-7674 or http://www.drbrownsbaby.com/.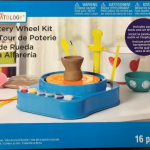 Creatology Pottery Wheel Kits
263,000 units recalled, 2 incidents
Michaels recalled the Creatology pottery wheel kits and Creatology spinning arts kits on May 17, 2018. The battery compartment in the kits can overheat, posing fire and burn hazards. Contact Michaels at 800-642-4235 or www.michaels.com.
If you have any of these products, stop using them immediately — you are eligible for repairs or refunds. If you have an incident with a product, report it to SaferProducts.gov. You can also read other consumers' reports there. You can keep up with recalls throughout the year by visiting CPSC.gov, signing up for KID Email Alerts, and following us on Facebook and Twitter.