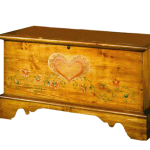 Note: As of 2023, United Furniture Industries (UFI) of Tupelo, Miss. is no longer administering the recall and replacement latches and locks are no longer available. KID urges families to remove the latch and drill holes in the back of the chest. Remove chests from homes with children.
Today CPSC issued a warning about recalled cedar chests still in homes.  These chests (sold under the Lane and Virginia Maid names) have automatic locking latches and an airtight seal to protect linens from moths.
Over 12 million of these chests, made between 1912 and 1987, were recalled in 1996 because the chest instantly locks when the lid is closed. These chests have caused 14 known child deaths since 1996. One case involved two siblings, age 7 and 8, who got inside the chest together and were suffocated. These incidents aren't just occurring with young children, in 1999 a 15-year-old girl died in a chest passed down from her grandmother.
As a durable product that is often passed down through families or purchased second hand, CPSC is concerned that there are likely millions of chests still in homes posing a risk to children. Since Lane was purchased by United Furniture Industries, the company is renewing their call to fix these products. In addition to the recall renewal, the manufacturer is also offering replacement latches and locks to consumers who own the recalled cedar chests.
If you have this chest, KID urges you to:
Participate in the recall even if you don't have children. It's likely that the chest will remain in use in the future and the next user may not have access to a new latch
Families should immediately remove the current latch and drill holes in the back of their chest while they wait for new latches.
Note that that it is illegal to donate or sell these chests without first fixing the latch.
If you are unsure if your chest has been corrected, check out the recall here.
As always, to keep your children safe, follow us on Facebook and Twitter or sign up for our monthly recall report.