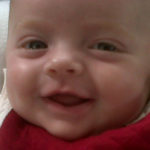 Today's #FamilyVoicesFriday is dedicated to Juliette, who was killed eight years ago this month. At just four months old, Juliette died of positional asphyxiation when she rolled over the side of a sleep positioner.
Juliette's parents, Kristine and Brian, remembered their daughter by saying: "Juliette immediately drew you in with her big, beautiful blue eyes." Juliette's parents were transitioning Juliette into her nursery and decided to purchase a Nap Nanny sleep positioner. They believed it would keep Juliette safe because the product included a harness feature. What they didn't know was that this product had a history of harness failure. Shortly after they began using the Nap Nanny, Juliette's father awoke one night and discovered her lifeless body partially hanging off the side of the Nap Nanny.
Since Juliette's tragic death, her parents researched the Nap Nanny further, and exposed the risks associated with this product. In 2012, all models of the Nap Nanny were recalled after six reported deaths. This product is now illegal to sell in the United States.
At KID, we will continue to fight for product safety and transparency. Recently, the CPSC issued a warning to parents and caregivers to use restraints with infants in inclined sleep products (such as the Nap Nanny). However, this recommendation goes against current safe sleep recommendations from the American Academy of Pediatrics (AAP) that babies sleep Alone, flat on their Backs, and in a Crib, play yard, or bassinet that meets current safety standards. KID and other advocates urged CPSC Chair Ann Marie Buerkle to clarify this safety message and take action on these inherently unsafe products. We will continue to fight to take unsafe sleep products off the market.
Read more about Juliette's story, or find more information on the Nap Nanny recall from CPSC. You can also sign up to receive KID's email alerts and follow us on Facebook and Twitter for important updates on safe sleep and product safety.