Carson has been with us since 2016 and has recently decided to move on from KID. A devoted Program Director, she has done much to support and drive the mission of KID, reaching out to communities and giving informative presentations. As she looks to move forward with new opportunities and experiences, she reflects on her time with us.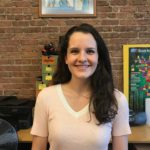 What drew you to KID?
I joined KID through a fellowship program — the University of Chicago Public Interest Program (UCPIP). When I learned about KID through this program, I was so excited to begin my career at a small nonprofit and build the diverse skills the Program Director position requires, while also furthering KID's important mission. I was so impressed by the work being done and the progress that KID has made on this issue – as we always say, KID is small but mighty! It was also evident that KID founders, Linda Ginzel and Boaz Keysar, as well as our Executive Director, Nancy Cowles, have built an incredible community of advocates around this cause, and I am so glad to have had the opportunity to be a part of that community.
How did your work at KID further the organization's mission?
As KID's Program Director, I have worked to connect parents, caregivers, and others with KID's life-saving product safety messaging. This involves developing new and innovative materials and workshops, expanding strategic partnerships, and also spreading the word about our mission online and on social media. Over the past year, I worked to redesign KID's website. We know that KID is a crucial resource for parents, caregivers, and fellow advocates, and I'm proud that our new website will better serve their needs.
What did you enjoy the most about your time at KID?
The best part about my time at KID was all of the great people I got to work with! Between KID staff, our Executive Board, our Young Professionals Board, and all of our invaluable partners, I got to know so many wonderful people. I also loved working with all of the great interns and volunteers that KID has had over the years – we would not be able to do our work without them! In my work as Program Director, it was so fulfilling to be able to serve as a resource for parents and caregivers at workshop presentations, community health fairs, and more. Being a new parent can be scary and overwhelming, and I was so glad to be able to be able to answer important safety questions. This information can give parents and caregivers much-needed confidence that they can navigate our complicated product safety landscape to keep their children safe.
Given your involvement with parents and caregivers over the years, what household hazards were they often the most surprised to learn about at a KID training?
I think the hardest thing for parents and caregivers to come to terms with is that just because a product is available on store shelves, that does not mean it is safe to use. It is difficult to accept that consumers can't always trust the system to keep us safe, and it means we must take some extra precautions to create safe environments for children. I hope caregivers are also glad to know that KID is working to change that system and advocating for children.
Where do you hope to see KID grow over the following years?
It was an honor to participate in recognizing KID's 20th Anniversary this year. That milestone gave us an opportunity to reflect on our many victories, but also to set strong goals for where our organization will go next. I know that Nancy and the KID Board have big plans for the next 20 years of KID. I hope that we will continue to build strong partnerships with organizations serving parenting population to get our important message to more caregivers. Recently, we piloted our TEST program at the high school level, and I would love to see that program continue to grow and reach new audiences. I'm so excited to see what the future holds for KID.