Summer is a time for children to explore the outdoors and enjoy warm-weather activities. Many children's products that are used in the summer help them reach important developmental milestones: cycling, swimming, jumping, balancing and more. However, many of those products can also have hazards that are commonly unknown to consumers. This year, we looked at popular summer activities and consumer products that often accompany those activities to find ways to increase safety without reducing the fun. The report analyzes data from 2014 to 2017, compiling recent injuries and statistics associated with summertime children's products.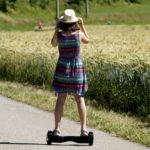 Findings:
Trampolines are now the second highest cause of consumer-product related injury occurring outside the home for children ages 0-4. For children ages 5-9, trampolines are the third highest cause of injury occurring outside the home, behind bicycles and playground equipment.
Bicycle-related injuries to children ages 0-9 have decreased by 25% between 2014 and 2017.
Swimming-related injuries have increased by 23% for children ages 0-9. Drowning is the leading cause of accidental death to children ages 1-4 and the second leading cause of accidental death to children ages 5-9, behind motor-vehicle accidents.
There have been 21 different types of hoverboards recalled in the years 2016 and 2017 alone. Each of those 21 recalls were due to a fire or explosion hazard.
KID recommends:
Routinely check the CPSC website for recall notices.
If you own a product that is recalled, stop using it.
Always provide the appropriate supervision and protective gear depending on the activity and your child's developmental stage.
Report any problems with products to SaferProducts.gov.
It's hard to find a fun outdoor activity that doesn't come with some sort of  risk or hazard. Remember, understanding and acknowledging those risks can decrease a child's chances of injury. Continuously check the CPSC website for updates on product recalls. Report any hazards or incidents you may experience to Saferproducts.gov. Make sure your child wears safety gear as appropriate and understands how to safely navigate their chosen summertime activity.