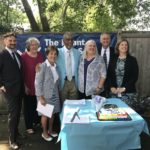 Between 1998 and 2007 unsafe children's products led to over two-million child injuries, and hundreds of child deaths. This was because voluntary standards on children's products were not protecting children, products weren't required to be tested prior to sale and consumers didn't have access to product safety information.
In 1998, after the death of their 16-month old son Danny, who died when a portable crib collapsed around his neck suffocating him, Linda Ginzel and Boaz Keysar took action and founded Kids In Danger (KID). KID is a nonprofit organization dedicated to fighting for children's product safety. Frustrated with the reality that children were not protected from products intended for their use, hand in hand with other parents and activists, KID advocated for stronger, mandatory, standards on children's products.
After 10-years of fighting for stricter regulation, parents and activists won. On August 14, 2008, the Consumer Product Safety Improvement Act (CPSIA) was signed into law. The bill included a ban on lead and phthalates in children's products, mandatory independent testing prior to sale, and the establishment of an online database of consumer product reports (SaferProducts.gov).
Rachel Weintraub of Consumer Federation of America stated, "This bill represents the most significant improvements to product safety since Congress created the CPSC in the 1970's. This reform is much needed, long overdue and necessary to ensure that CPSC can successfully ensure the safety of consumer products."
Under the CPSIA, durable infant and toddler products such as cribs, strollers, and high chairs, must be tested to a strong mandatory standard. Products that don't meet the standard cannot be sold, donated or used in childcare facilities, airplanes or hotels, and must have product registration cards to notify the consumer in the event of a recall. This part of the law was named in memory of Danny, The Danny Keysar Product Safety Notification Act or Danny's Law.
In the 10 years since CPSIA has passed, incidents, injuries and deaths as the result of using children's products has declined. In 2016, no deaths were reported prior to a recall on a children's product. Mandatory standards on cribs and other durable products reduced injuries in many categories. As of today, almost all durable infant and toddler products are covered by a strong mandatory standard. For more information about the effectiveness of the CPSIA read KID's recent report.
How can CPSIA help you to continue to keep your children safe?
For more information on the 10th anniversary you can find the press release here. For more information on how CPSIA has changed the product safety landscape, click here.