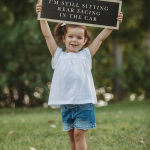 Motor vehicle accidents are a leading cause of death to children in the United States. This week is National Child Passenger Safety Week, and here at KID we're thinking about all the ways that parents and caregivers can keep their youngest riders safe while on the road. When it comes to car seats and booster seats, here's what you need to know.
When shopping for a car seat
Avoid buying car seats second-hand. It's impossible to know a car seat's history, and car seats that have been in wrecks may not protect in another wreck. Check all car seats to see if the product has been recalled at NHTSA.gov.
Before purchasing, make sure the car seat is right for your child's age, weight, and height. You can read the car seat's size limits on the packaging.
When installing your car seat
Before unpacking your car seat, register it with the manufacturer. By registering your car seat, you're signing up for updates about recalls and possible hazards associated with the product. This registration will not subject you to the company's marketing materials.
Before you bring your baby home from the hospital, have a child passenger safety (CPS) technician install your car seat properly. A study published in the Journal of Pediatrics found that 95% of parents and caretakers were using or installing car seats incorrectly.
Parents and care providers should always install car seats in the back seat facing the correct direction. In August 2018, the American Academy of Pediatrics released an update to their car seat recommendations. The AAP had previously recommended that children remain in rear-facing car seats until the age of two. They have since removed the age marker, recommending that children use rear facing car seats as long as possible or until they exceed the size limit.
For more information on car seat types click here, and for information on car seat installation tips click here.
When using the car seat
Buckle your child into the car seat every time. In rear-facing car seats the straps should exit the seat back below your child's shoulders, but in forward-facing car seats the straps will exit just above your child's shoulders. The harness should be snug and buckled and the chest clip should be at your child's armpit level.
The life of a car seat is from six to eight years; recalls for child seat manufacturers for the past 10 years can be found here. Some seats have expiration dates that should be observed.
For more car seat safety resources, visit www.nhtsa.gov and read the American Academy of Pediatrics (AAP) car seat guidelines. Follow KID on Facebook and Twitter, and sign up for our monthly email alerts.