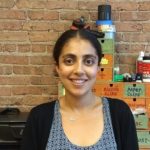 Today KID is excited to welcome our first intern from the Erikson Institute. Learn more about Sabina and how she'll help KID further our mission this year.
My name is Sabina and I am a graduate student at Erikson Institute earning my master's degree in Social Work with a concentration in Children and Families. This year, I will be interning at Kids in Danger as part of my program's  field placement. I am eager to serve the mission of this tremendous organization in working to make the world a safer place for children.
This mission inspired my desire to work at KID as I hope to dedicate my career to empowering children and families through any hardship they may face. While at KID, I am excited to participate in research based advocacy, outreach planning and execution within Chicago communities, and client based services including workshop presentations.
After graduating in Psychology from Loyola University Chicago in 2016, I worked as a day camp specialist,after-school mentor, and as an early childhood teacher.  I gained valuable experience in working with children of all ages in varied settings. Additionally, I served as an intern at Illinois Masonic Medical Health Center, specializing in group therapy with children diagnosed with autism and ADHD.
Following graduate school, I plan to pursue a career in Pediatric Social Work and have the chance to provide clinically-based mental health and socio-emotional support services to children and families undergoing related trauma and medical procedures. I truly believe that the values of KID go hand in hand with my own future interests, which I will have the wonderful chance to explore through the experiences I will have at KID this year!
To stay up to date on KID activities, sign up to receive email alerts from KID and follow us on Facebook or Twitter.