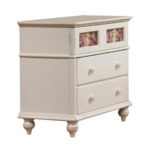 Just because a dresser is lower than others, doesn't mean it's safer. A new article from Consumer Reports investigates a potentially lethal loophole in pre-market stability tests. According to the article, dressers sold in the United States that are 30 inches tall or lower are not subject to the standard which dictates that dressers must stay upright with 50 pounds of weight hanging from any drawer while the dresser is otherwise closed and empty. Consumer Reports conducted a series of tests on drawers lower than 30 inches in order to discover whether or not these kinds of smaller drawers that were not subject to the industry's standard were linked to tip-over deaths.
The test results proved that many short dressers on the market are unstable and capable of tipping over a small child. This is because a dresser's center of gravity can shift when a drawer is opened, and when extra weight is added— by a toddler hanging off of the drawer, for instance— even a smaller dresser can tip. Another problem is that the standards for dresser safety are voluntary, meaning it is up to the company to decide whether to meet any standards of safety. Furthermore, even the current standard is believed by many to be insufficient.
KID's executive director Nancy Cowles, as quoted in the article, claimed that "Stronger Standards that hold up under real-world scenarios are needed."
KID will be joining other advocates in Washington D.C. this week for the ASTM Clothing Storage Unit Sub-Committee meeting at the CPSC Lab in Rockville, Maryland, where we hope the issue of covering all dressers as well as other improvements to the standard will be discussed.