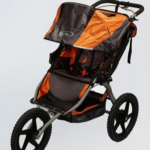 KID is disappointed that the U.S. Consumer Product Safety Commission (CPSC) settled an administrative lawsuit with Britax Child Safety, Inc. involving B.0.B. jogging strollers.  The settlement is vastly too weak and fails to protect consumers. The CPSC filed the lawsuit under the previous administration and had sought to force Britax to address safety hazards caused by the strollers' wheel attachment. The CPSC argued that this problem presented a substantial product hazard. The quick release on the front wheel can fail to secure the wheel to the fork, resulting in sudden detachment and injuries.  At the time the lawsuit was filed, at least 200 consumers had a front wheel unexpectedly detach resulting in at least 50 injuries to children and 47 to adults. The CPSC did not update that number for the settlement release but KID identified at least two new reports of front wheels failing on SaferProducts.gov.
This settlement, adopted by a 3-2 vote, explicitly states that the remedy is not a recall but rather an 'information campaign' that cannot be called a recall, despite offering replacement parts to some consumers. In fact, Britax points this out in the notice to retailers, – which seems to be telling retailers as well as consumers that this "information campaign" isn't worth paying attention to.
What the settlement includes:
Starting on January 10, 2019, Britax will provide an information video on proper operation of the quick release on the front wheel – including some type of incentive to encourage viewing.
Those with concerns after viewing the video and whose stroller was made between January 1, 2009 and September 30, 2015, can receive a modified quick release or fixed attachment or 20% off a new BOB Gear stroller (costs range from $359 to $639 at one retailer). If your stroller is made before 2009, you are eligible only for the discount. If you are using a stroller from before 2009, cost is probably a barrier to using that coupon.
The information program with replacement parts and coupons only lasts 12 months, with the video online for another 12 months. Most recalls have no end date – another big concession from the CPSC.
While the CPSC includes the warning in their release that it is against federal law to sell a recalled product, that specifically does not apply to this since it is not a recall. So, these strollers will continue to be bought and sold on the secondary market, with no requirement that information on the 'information campaign' be included.
This is a bad deal for consumers and a bad precedent – time limits on safety campaigns and corrective actions that aren't called recalls will limit attention from consumers, and consumers with older products will be prevented from participating in the limited replacement program.
It didn't take long to see the direction the new CPSC is heading.
There was a dissent from former Chairman Elliot Kaye, who is now a commissioner, and Commissioner Robert Adler.  They rightly pointed out the flaws in the agreement and process.
From the dissent:
"Consumers need to know that safety concerns are afoot in order to decide whether to avail themselves of such protections."
On the notice to retailers: "to say the least, this notice is aggressively misleading. What Respondent is (too) quietly offering goes beyond a mere information campaign – it is a program for corrective action to modify and repair strollers…"
"Having an agreement that provides relief without anyone being fully alerted to the nature of the relief is pretty much no relief at all."
The dissenting commissioners conclude that not only will BOB consumers "come up short in terms of safety," but it "sets dangerous precedents for future corrective actions – thereby lessening safety for far more consumers than are affected by this agreement."
KID joined with Consumer Federation of America in putting out a statement opposing the settlement.
KID agrees and urges anyone with one of these strollers to constantly check the quick release until the newer options are available in January.  If you have had an incident with a stroller or any product, report it at SaferProducts.gov. Check out other stroller hazards and recalls on KID's website.