Halloween: a night full of spooky thrills and fun after dark, but parents can't forget the hazards that can surround the holiday,. Last week, KID released a new report, entitled Safety Scare! Halloween Product Recalls, Reports, and Injuries along with a corresponding press release. This report reviews the data on potentially dangerous Halloween products and injuries related to Halloween, including product recalls, consumer reports, and statistics on pedestrian injuries on Halloween night.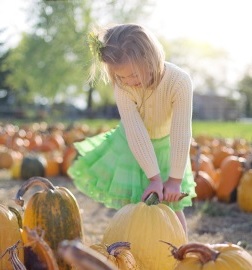 The report began with recalled Halloween products. Between 2009 and 2018, 10 Halloween products were recalled by the Consumer Product Safety Commission (CPSC). Fire and burn risks were the most common reason for the recalls, as many of the products were battery or LED powered, but there were also a few recalls for choking, strangulation, or button-battery ingestion risks. Unfortunately, recalls do not always remove products from the possession of those who already own them, meaning that if a recall happened off season, many consumers may be in possession of a dangerous Halloween decoration or costume they were planning on saving for next year. Before the Halloween festivities start, parents are advised to visit the CPSC official database, CPSC.gov, to make sure none of the Halloween products they own have been recalled.
KID also found that in the past ten years, 19 consumers had made reports of hazardous Halloween products, 7 of which claimed a child had been put at risk or was injured by the product. These injuries ranged from mild burns to a few serious cases of choking and one poisoning. Costumes and masks were the most reported hazardous product, most of which were marketed for the use of children. None of the products reported have been recalled.
Finally, KID reported that traffic injuries increase on the night of Halloween itself. The Center for Disease Control and Prevention (CDC) conducted an analysis on the mortality rate of Halloween night for children and adolescents between the ages of 5 and 14. Between 1975 and 1996, 89 pedestrian deaths of children occurred on October 31st between the hours of 4:00 P.M. and 10:00 PM. This is 1% of the total number of the total child pedestrian deaths in this time. KID also notes in the report that any child is four times more likely to be fatally injured as a pedestrian by a car on Halloween night than on any other night.
The best way to keep your child safe on Halloween is to carefully prepare for the holiday. All costumes and masks must be fire resistant, reflective, allow for proper ventilation and peripheral vision, and not trip or snag. KID also suggests that parents use battery operated lights or glow sticks instead of open-flame candles. Children ought to travel after dark in large groups with flashlights and cross the street in clearly lit areas. KID further advises all parents to go to cpsc.gov and SaferProducts.gov to check for recalled and reported products before buying new ones.
Have a happy and safe Halloween!