Today, KID released our annual report on children's product recalls. We were joined by Rep. Jan Schakowsky, Consumer Federation of America, Consumer Reports, Illinois PIRG, and parents who have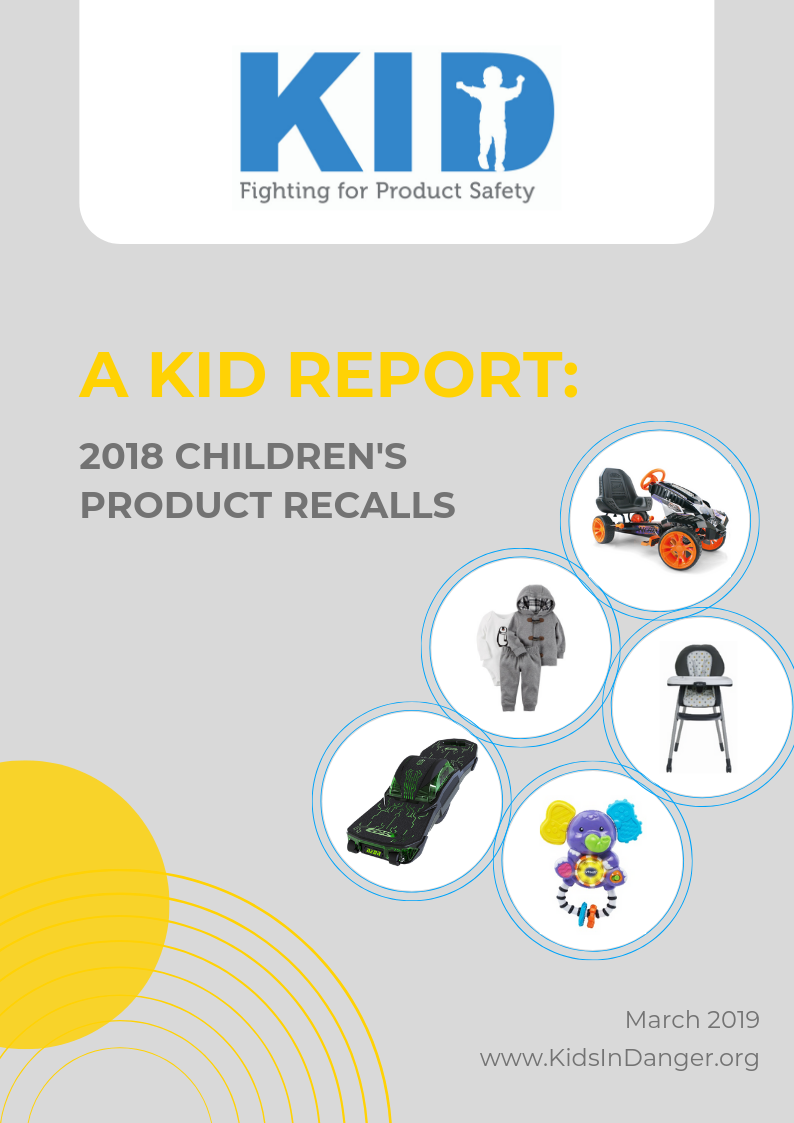 lost children to furniture tip-overs Lisa Siefert, Janet McGee, Crystal Ellis, and Meghan DeLong (representing the coalition Parents Against Tip-overs).
The report, covering 2018 recalls, includes recall statistics, trends, and recommendations for the CPSC, manufacturers, and consumers. The 2019 KID Recall Report shows some troubling trends from the past year. The CPSC recalled fewer products overall, fewer children's product recalls, and fewer units of children's products than any year in the last decade. Below are highlights of the report, which can be found here.
Decrease in Number of Recalls and Units
In 2018, 52 children's products were recalled by the CPSC. This is a 44% decrease from 2017 (93 recalls), the lowest number of children's product recalls since KID began tracking in 2001. In addition to a decrease in the number of recalls, there was a drop in the number of units recalled, from nearly 12 million units in 2017 to a little over 2 million in 2018.
Fewer Social Media Posts about Recalls
There was a sharp decrease in the number of social media warnings about recalled children's products. In 2017, the first year that CPSC used Facebook, the agency posted 75% of children's product recalls on its Facebook page, but in 2018 posted only 45%. On the company side, only 31% of the 48 companies which had a product recall announced the recall on their Facebook pages – a drop from 51% in 2017. It seems that the new CPSC leadership does not value the use of Facebook as a recall effectiveness tool as much as the previous administration.
Rise in Recalled Nursery Products
Out of the 52 children's products recalled in 2018, 13 (25%) were nursery products (highchairs, strollers, rattles, nightlights, etc.) This is disturbing since parents purchase nursery products to keep their children secure and safe while playing, sleeping, and eating.
Increase in Products Recalled Due to Rule Violations
KID noticed a drop in the number of children's products the CPSC recalled due to design flaws. Recalls due to rule violations, however, (such as a violation of the federal flammability standard for clothing) increased from 43% in 2017 to 62% in 2018. Design hazards that do not violate a mandatory rule take more time and effort to recall but are equally important to remove from market. In fact, 90% of the 1,275 total incidents reported in 2018 and 100% of the total injuries reported (21) were from recalls due to design flaws.
Increase in Lead Recalls
The negative health effects of lead are well-known. In 2018, there was an increase in the number of children's products recalled due to lead hazards. In 2017, which had nearly twice the number of children's products recalled than the following year, there was one product recalled due to lead; however, out of the 52 products recalled in 2018, five were recalled because of a lead hazard. This is alarming, as this is nearly 10% of the total number of recalled children's products in 2018.
No Furniture Recalls in 2018
The CPSC has stated that one child dies every 10 days from a TV or furniture tip-over, and yet there were no furniture recalls in the past year. In 2017, a toddler named Connor DeLong was killed by an IKEA Hemnes dresser, the same dresser that sparked a viral video when it toppled over onto twin toddlers. Despite these incidents, the dresser has yet to be recalled. As you can read in the report press release, this led KID to join with our allies and U.S. Representative Jan Schakowsky to introduce legislation to address furniture tip-overs.
KID demands that the CPSC and manufacturers make a greater effort to make recalls effective. We will continue to fight for product safety and stronger federal standards. As always, we encourage consumers, especially parents and caregivers, to check any products they own or are thinking of purchasing against the CPSC's new recall app which can be downloaded here.