Last May, the U.S. Consumer Product Safety Commission (CPSC) issued a warning about infant inclined sleep products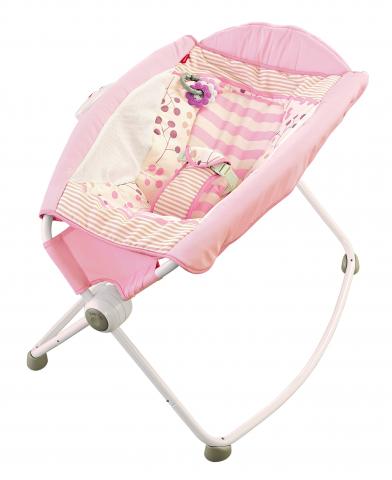 after 17 deaths occurred when babies became entrapped after moving or rolling over in the products.  Today, almost a year later, CPSC and Fisher Price issued a more specific warning about the Fisher Price Rock 'n Play.
The warning said there had been 10 deaths since 2015 in the Rock 'n Play when babies turned over in the product.  CPSC urged parents to stop using the product before three months of age or when the baby can roll over.
KID and the American Academy of Pediatrics (AAP) and other safe sleep groups warn against the use of products such as the Rock 'n Play for sleep.  Babies develop at many different speeds – some babies will roll prior to three months and most don't give too much warning before they roll for the first time.
Infants sleep safest following the ABC's of safe sleep – Alone, on their Back and in a Crib, bassinet or play yard that meets federal standards and hasn't been recalled.  AAP also recommends babies sleep on a flat surface and unrestrained.
Today's warning did not address other infant inclined sleep products but they pose the same risk and other deaths have been reported.  Don't use these products.  Check out KID's safe sleep video for more information and report at SaferProducts.gov if you have had a safety incident with any children's product.
Also note that the Rock 'n Play has been previously recalled for a mold hazard.
*Update (4/8/19): Consumer Reports published an article today describing additional deaths (at least 32 total deaths) and hazards with the Rock 'n Play and asking for its recall.  KID supports recalling this and other infant incline sleep products involved in injuries or deaths.
Update (4/9/19): The AAP issued a statement today calling on the CPSC to issue an immediate recall for the Fisher-Price Rock 'n Play Sleeper and ured parents to stop using the product immediately.