Tomorrow's our annual KID Best Friend Award Night at Galleria Marchetti in Chicago from 6-9pm. It's not too late to b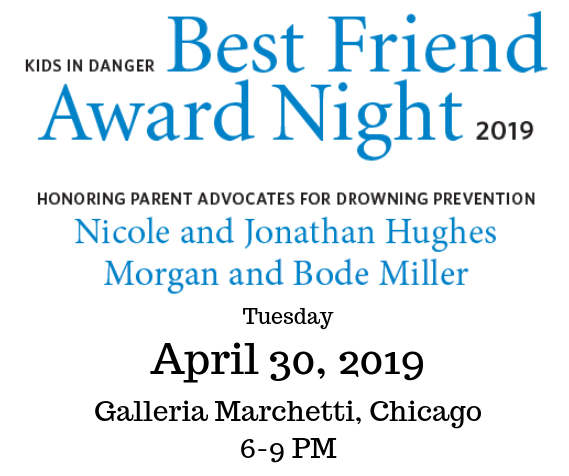 uy tickets here.
This year, we're honoring parent advocates, Nicole and Jonathan Hughes, and Morgan and Bode Miller. On June 10, 2018, three-year old Levi Hughes slipped away from his family for only a moment and drowned in an outdoor pool in seconds. That same day, 19-month old Emmy Miller walked through a back door at a family friend's house and fell into the pool and drowned. Emmy was in the pool for less than a minute. In honor of their children, the Hughes and Miller families have devoted their efforts to educating the public about pool safety and the dangers of water hazards by sharing life-saving resources.
Join us for an amazing evening with food sponsored by great Chicago restaurants – Gene & Georgetti Chicago, Bub City, Summer House Santa Monica, Boka Catering Group, Mon Ami Gabi, Hampton Social, Cafe Ba-Ba-Reeba, Cake Sweet Food Chicago, Chicago's Community Kitchens, Spin-Spun, and Revolution Brewing.
We'll also have a live auction, raffle, wine toss hosted by our Young Professional Board, photo booth, and much more.
And if you can't make it, you can still buy raffle tickets and win.
Get your event and raffle tickets here.