Preventing furniture tip-overs continues to be one of KID's priority advocacy campaigns. When KID staff talk to consumers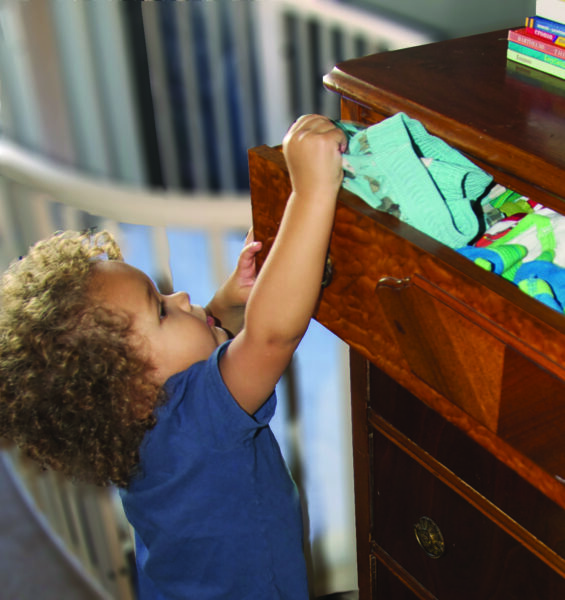 about tip-overs, some often immediately say "I don't shop at IKEA so my furniture won't tip-over." It is not only IKEA furniture that causes tip-over incidents and deaths. One child is killed every 10 days and hundreds more are injured annually in the U.S. due to tip-overs from a wide variety of dressers – most are not recalled.  Between 2015 and 2017, 14,000 children were injured in tip-over related incidents.
While it's important consumers are aware of the massive 17.3-million unit IKEA dresser recall in 2016, there are several examples of non-IKEA branded furniture that have resulted in recalls and deaths. Between January 2016 and December 2018, about 1.8 million units of non-IKEA furniture-related pieces were recalled. They include dressers, chests, benches, and nightstands that have been recalled due to falling and entrapment hazards. In 2017, popular retailer Target recalled over 180,000 dresser units due to tip-over risk after the four-drawer Room Essentials dresser had several reports of collapsing on toddlers. Other major retailers with related recalls include: Walmart, Crate and Barrel, South Shore Sauder Woodworking, Hillsdale Furniture, Simpli Home, Vanguard, Bolton, Furniture Kidz, Baby.com, and Baby Universe.  And remember, most deaths don't lead to recalls, so any dresser can be unstable.
The current standard for dressers is not strong enough, and it's voluntary, leaving it up to the manufacturer to decide whether to meet any standards of safety. We need a strong mandatory standard which would require all furniture manufacturers to make safe dressers.
In the meantime, anchor the furniture in your home to the wall to help prevent tip-overs. Join the KID Action Team here to get alerts on how you can take future actions.