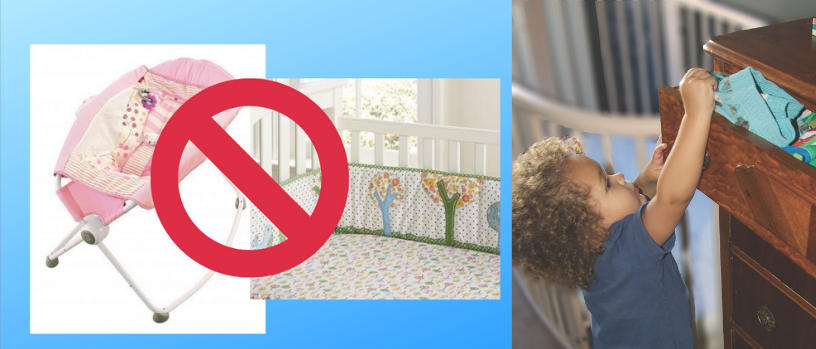 Today marks an important victory for KID, consumer advocates, and families with the passage of three key child product safety bills in the House Committee on Energy and Commerce. The bills will now be sent to the full House.
The Stop Tip-overs of Unstable, Risky Dressers on Youth Act, or STURDY Act, sponsored by Rep. Schakowsky, would direct the U.S. Consumer Product Safety Commission (CPSC) to create a mandatory standard to prevent tip-overs. According to the CPSC, one child dies every ten days from a furniture tip-over. The Safe Sleep for Babies Act of 2019, sponsored by Rep. Cárdenas, would ban the sale of inclined sleepers, such as the recently recalled Fisher Price Rock 'n Play. The Safe Cribs Act of 2019, sponsored by Rep. Schakowsky, would ban crib bumper pads, which pose a suffocation risk. Both inclined sleepers and bumper pads have caused dozens of infant deaths.
KID thanks parent advocates, especially those that have lost children and grandchildren to these dangerous products and turned grief into advocacy to save the lives of other children. We also thank our coalition partners Parents Against Tip-overs, Consumer Federation of America, Consumer Reports, Public Citizen, and the American Academy of Pediatrics, members of Congress who co-sponsored the legislation, their staff, and Committee staff for their leadership and dedication to save children's lives.
There is still more work to be done before these bills are law.  Please ask your Congressional representative to co-sponsor The STURDY Act, The Safe Sleep for Babies Act, and The Safe Cribs Act. Click here to look up contact information.