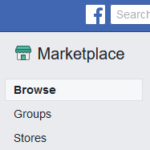 Good news for consumers purchasing second-hand items online – Facebook Marketplace's Commerce Policies states "listings may not promote the buying or selling of recalled products."
In May, KID called on Facebook to allow buyers to report items and sellers for selling recalled products. We've seen hundreds of recalled children's products for sale through Facebook Marketplace over time such as recalled IKEA dressers and the Fisher-Price Rock 'n Play. Just this week, we saw ads for Bumbo seats with no restraints, Simplicity drop-side cribs, Nap Nanny's, and other recalled products. Shockingly, reporting an item as recalled isn't an option when reporting an item for sale or a seller to Facebook.
While it's a step in the right direction that Facebook does not allow listings to promote the sale of recalled products, consumers are still left without an option to report a product as being recalled. It's not clear how Facebook will scour through the thousands of items for sale looking for recalled products – or if they will search for recalled products at all.
Click here to tell Facebook to allow users to report recalled products on Facebook Marketplace. Select "Marketplace" under "product or feature" and tell Facebook to allow users to report recalled products. And report all incidents with unsafe products at SaferProducts.gov.