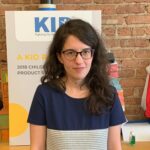 KID is excited to welcome our new graduate intern from the Erikson Institute. Learn more about Laura and how she'll help KID further our mission this year:
My name is Laura and I am a graduate student in the Social Work program at Erikson Institute, with a concentration in Youth, Family, and Communities. I was drawn to KID for my field placement because of their tireless advocacy to ensure the safety of children. I'm looking forward to helping with outreach to organizations who share this goal, and leading workshops for parents, health care providers and child care professionals.
I graduated from the College of William & Mary in 2014 with a major in Music Technology. After some soul searching, I left a career in software development to pursue social work, and I hope to one day work as a counselor for families who have experienced trauma or violence. I am excited to join KID to make a difference in the lives of children and families.