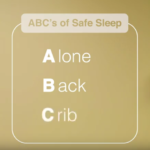 Unsafe sleeping arrangements are one of the leading causes of death among infants. In 2018, 143 infants under the age of one died in Illinois due to hazardous sleeping environments.
This month, the Illinois Department of Children and Family Services (DCFS), Illinois Department of Public Health (IDPH), and Illinois Department of Human Services (IDHS) are coming together to help combat sleep related infant deaths in Chicagoland with Infant Safe Sleep Awareness Month. This statewide prevention and education campaign aims to reduce the risk of sleep related infant deaths by providing information to the general public on the importance of creating a safe sleep environment for children.
Here are some safe sleep tips from KID:
Follow the ABCs of safe sleep: Babies sleep safest Alone, on their Back, and in a Crib, bassinet, or play yard that hasn't been recalled and meets the federal standard. The baby's sleep area should be clear of pillows, blankets, bumper pads, and any other products.
Check for recalled products in your home and report unsafe products at SaferProducts.gov. Download the Consumer Product Safety Commission's recall app to search for recalled products on your phone.
Find more information on how to provide a safe sleep environment for infants on our website, and learn more about Illinois DCFS's Infant Safe Sleep Awareness Month here.