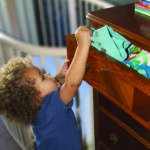 This month, the U.S. Consumer Product Safety Commission (CPSC) released a new report, Product Instability or Tip-Over Injuries and Fatalities Associated with Televisions, Furniture, and Appliances. The report compiles tip-over fatality statistics from 2000-2018 and tip-over injury statistics from 2016-2018. The findings show that furniture-related tip-over injuries and deaths continue to remain a problem. They are the main focus of the report.
Between 2000 and 2018, 556 deaths were caused by tip-overs, and of these tip-over deaths, 83% were children ages 0-17.  Children also accounted for 46% of all tip-over injuries, and the majority of children's tip-over injuries and fatalities were children ages 1-4 (shown in graph). Furniture (chests, bureaus, bookshelves, drawers, TV stands, desks, etc.) was found to be the main culprit of both fatalities and injuries, with 60% of tip-over deaths involving furniture and 76% of tip-over injuries involving furniture. The types of furniture that caused the most injuries for children were tables at 37% and chests, bureaus, and dressers at 34%. The report also analyzed location and found that residential locations were the most common place of incidence for both children's fatalities (91%) and children's injuries (76%).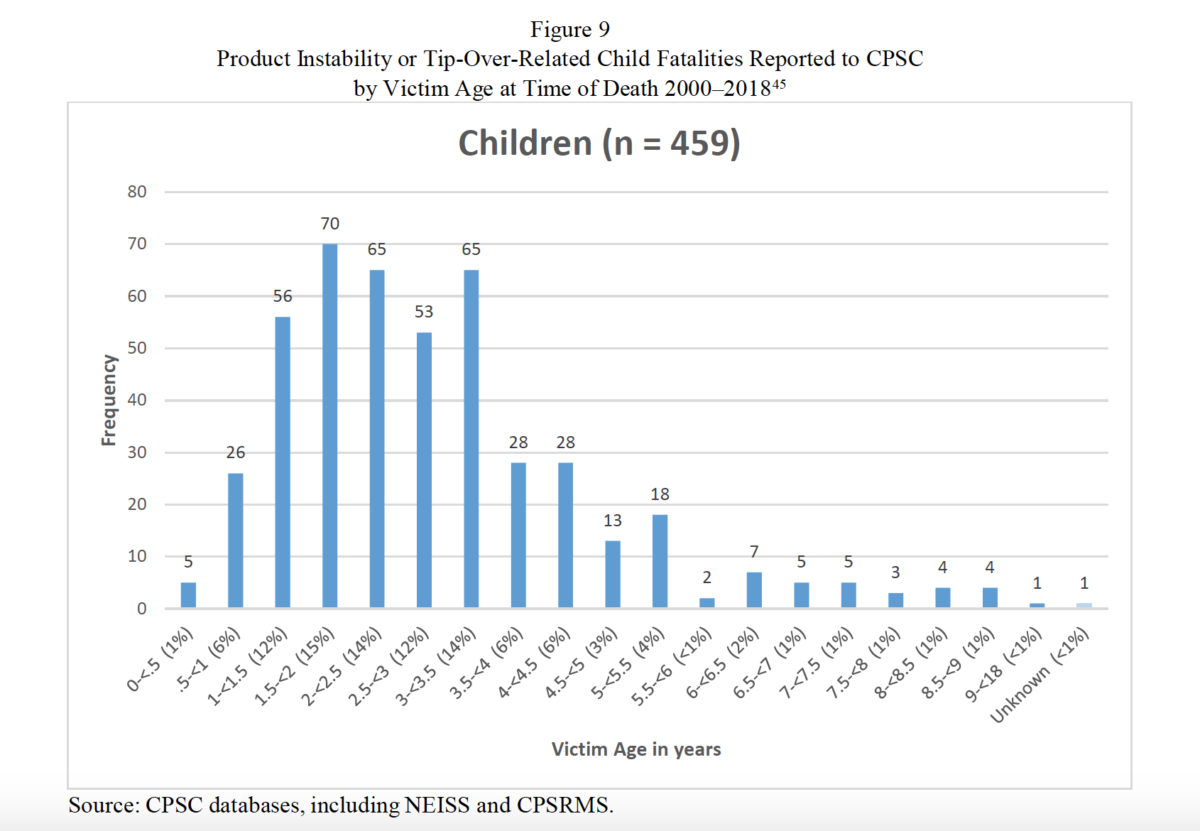 Comparing the data from this report to previously released reports1, the number of television-related tip-over injuries has dramatically decreased, cutting nearly in half from 10,100 cases in the 2017 report to 5,500 cases in this latest report. Furniture-related tip-over injuries, however, have remained relatively steady, and account for a growing proportion of tip-over injuries. In the 2017 report, 19,500 furniture-related tip-over injuries were reported, accounting for 64% of all tip-over injuries. In the 2019 report, the number of furniture-related tip-over injuries was slightly higher, at 20,500, but these injuries accounted for 76% of all tip-over injuries. Additionally, children under age 6 have continued to comprise the majority of children's furniture tip-overs. In the 2017 report, this age group accounted for 75% of children's furniture-related tip-over injuries, and in the 2019 report they accounted for 78%.
With stronger regulations and safety measures, the incidence of children's injuries and fatalities have the potential to decrease.
The Stop Tip-Overs of Unstable, Risky Dressers on Youth (STURDY) Act passed through the U.S. House and is currently in the Senate. The bill proposes that the CPSC create a strong mandatory safety standard for free standing clothing storage units.
In 2015, the CPSC launched its "Anchor It" campaign, aimed at educating consumers on the hidden hazard of tip-overs and providing resources on furniture anchoring. Anchor the furniture in your home, and if you've experienced a furniture tip-over or near miss, report it at SaferProducts.gov.
[1] Note: The statistics presented in the 2019 report are not comparable to previously released statistics due to refinement of the conventions for determining in-scope National Electronic Injury Surveillance System (NEISS) injuries.