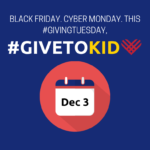 This year, KID is joining non-profits across the world to participate in #GivingTuesday on December 3. Giving Tuesday is an annual day of giving when people share their love and passion for making the world a better place by supporting non-profits and asking others to join.
KID has a goal of raising $10,000 this year to fight for children's product safety. Your support allows us to continue our live-saving work like our outreach workshops for parents, caregivers, and healthcare professionals to educate them about safe sleep and product safety, research reports on recalled children's products, and design safety program to ensure manufacturers are putting safer products out on the market.
An easy and fun way to support KID this year is by becoming a #GivingTuesday Ambassador. #GivingTuesday Ambassadors share their passion for child safety by creating a giving page and sharing it with their friends and family. Follow these simple steps:
Create a sign-in on our Peer to Peer page
Add a picture and goal amount
Share your page with friends and family
You can also support KID by making a donation. A donation of $100 will provide safe sleep kits to 12 new parents or will allow KID's Teach Early Safety Testing Program to provide the tools needed for a high school or college engineering program to design safe products.
And if you make a donation on December 3 through our Facebook Giving Tuesday Page, Facebook will match your donation.
Children need KID and KID needs you. Consider supporting KID this Giving Tuesday. Have a happy and safe holiday season!