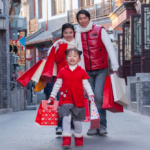 The holidays are right around the corner. In the hustle and bustle of finding perfect gifts for the children in your lives, T-R-A-C-K children's product safety while shopping this season with these tips:
Toilet paper roll test: if a toy or part of toy is small enough to fit inside a toilet paper roll, it can pose a choking hazard and is not suitable for children under three.
Recalled children's products can be checked at the CPSC's website, and look up hazardous product reports at SaferProducts.gov before purchasing a gift. Products such as infant inclined sleepers, walkers, and bath seats are inherently unsafe and should be avoided.
Age labels are on products for safety. Check age ranges on the products before purchasing for little ones.
Cart-related injuries while shopping are common, yet avoidable. Traditional shopping carts are inherently unstable. For toddlers and preschoolers, use a cart that has a child seat low to the ground. Some look like miniature cars in the front of the cart. Learn more about shopping cart safety tips.
Keep out! Avoid toys with…
– long tags, strings, ribbons, or deflated balloons as these create strangulation and suffocation risks.
– powerful magnets because these can cause severe internal damage if ingested.
– battery compartments that are accessible without the use of a tool.
What is your Holiday Shopping Safety tip?  Share with us on Facebook and Instagram. We hope you and your loved ones have a fun and safe holiday season.