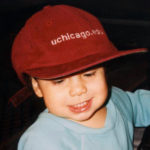 This Tuesday, December 31, Danny Keysar would be turning 23 – a young adult, perhaps a recent college graduate, starting his adult life. But Danny died before his second birthday in a poorly designed, inadequately tested, and recalled portable crib.  His parents, Linda and Boaz, founded KID as Danny's legacy to keep other children safe. KID's work is done to honor the memory of Danny and other victims of unsafe children's products.
Danny died from a flawed children's product safety system that allowed a dangerous crib to be sold and remain in use even after other babies had died. Fortunately, that flawed system has changed tremendously in part due to KID's efforts. Danny's Law, part of the Consumer Product Safety Improvement Act of 2008, helps ensure that cribs and other nursery products are made safer today than ever before.
You can honor Danny this week and help strengthen KID's work and his legacy by:
Making a donation to KID. Through December 31, Danny's parents will match contributions up to $10,000.
Join the KID Action Team to advocate for safety
Let's work together to make 2020 a safer year for all children.