KID FY 2019 Annual Report
JUNE 2018 – MAY 2019

Dear KID Friends & Supporters

Dear KID friends and supporters,
We are excited this year to present our first online annual report. This will allow you to easily see KID's progress as you scroll through the photos and reports.
Last year as we marked our 20th Anniversary we shared these goals with you:
Keeping families safer by getting product safety information to them sooner.
Ensure manufacturers are doing their part to sell safe products and effectively recall those that are found to be unsafe.
Build our coalition of advocates and partners to create safer environments for children.
As you read through this report, you'll see the work we've done to protect children as they sleep and play; research analyzing recalls and hazardous products and our program outreach to strengthen our network to keep children safe.
We'd love to hear from you about KID's progress and how we can increase our impact and carry out our mission. Please reach out to us and consider a donation to keep our efforts strong.

Nancy Cowles
Executive Director

Shawn Kasserman
President
KID Mission & Focus
Kids In Danger (KID) is a nonprofit organization dedicated to protecting children by fighting for product safety.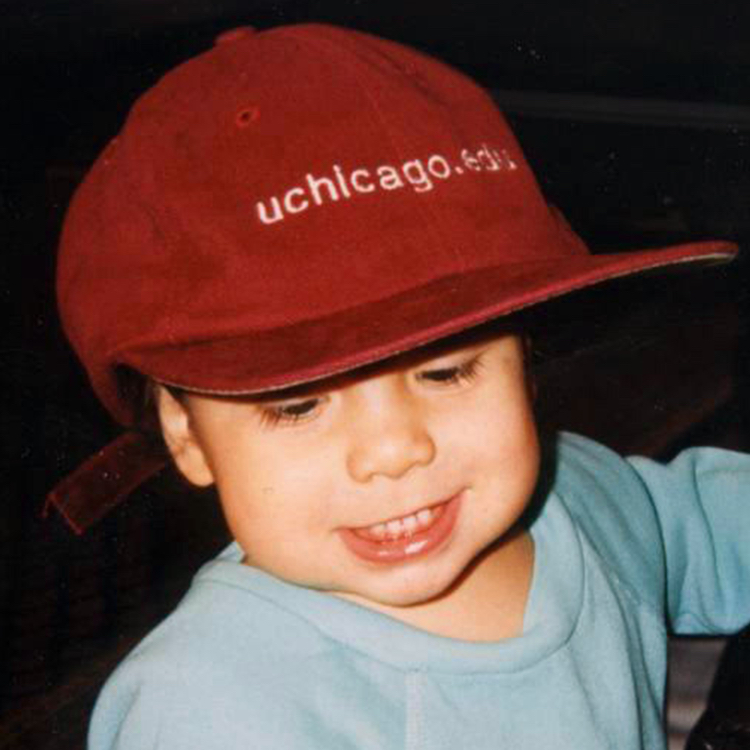 KID was founded by the parents of Danny Keysar who was killed by a poorly designed recalled portable crib in his child care home.
View More Family Voices
Our mission is to save lives by enhancing transparency and accountability through safer product development, better education and stronger advocacy for children. 
Advocacy
Advocacy has always been at the core of KID's mission. As a voice for parents, KID speaks to regulators, policymakers, media and other organizations about making products safer. KID works to increase transparency of product safety information, improve recall effectiveness, address emerging hazards, and encourage strong compliance activities.
Big Data and Tech
New technology and resources allow us to use big data to gain insight into consumer experience with products, including potential hazards. Our goal is to use big data to 1) identify problems based on trends before they become issues and 2) identify safety issues and make them accessible to parents and providers.
Design Safety
KID works with universities on project-based learning to integrate design safety into the curriculum. We are beginning to reach product designers, marketers and engineers with our toolkit to integrate safety from the beginning and throughout the process.
Public Education & Outreach
KID remains true to our goal of providing parents and caregivers with the tools they need to keep children safe. KID is forming new connections and strengthening existing partnerships to distribute our materials through new and more efficient pathways.
KID Board of Directors
June 2018 to May 2019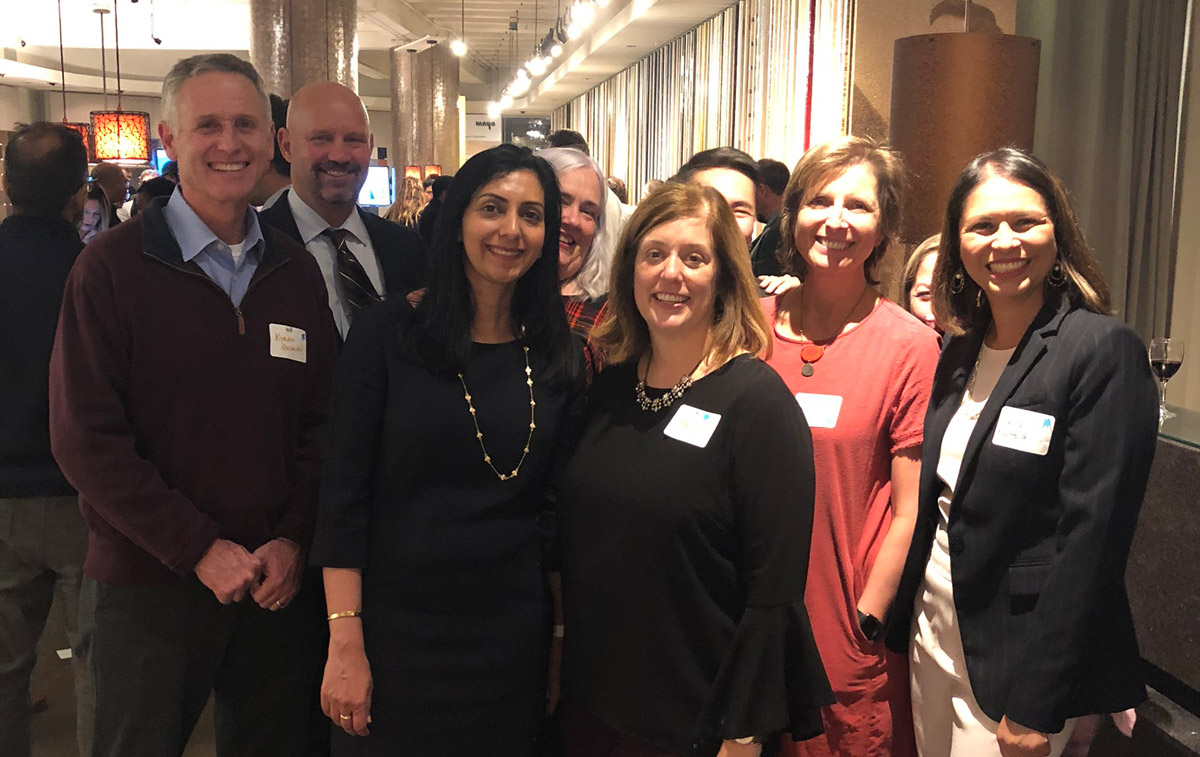 Marisol Pantoja, MBA, CPA
Treasurer
Leslie M. Batterson, CSP, CPEA
Amy Hill, MS
Amy Hogan
Heather L. Mason
Donald Mays
Susan Nied
Kyran Quinlan, MD, MPH
Ayesha Rafique
Julius Rhodes, SPHR
Shehnaz Safiuddin
Karen Sheehan, MD, MPH
David Zivan
KID Staff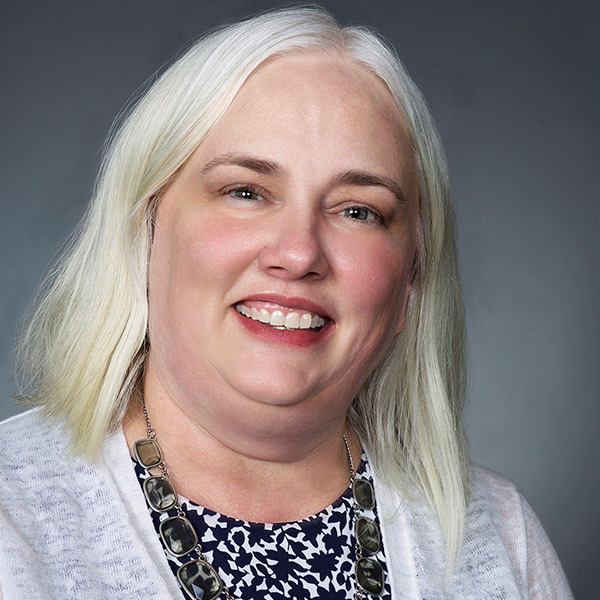 Nancy Cowles
Executive Director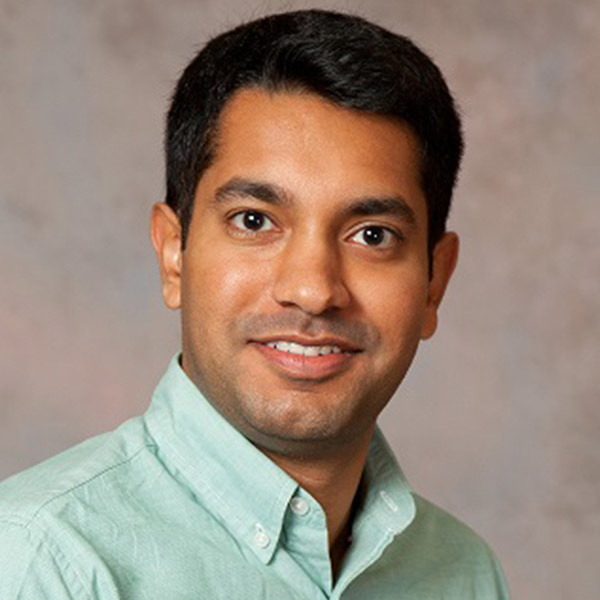 Dev Gowda
Assistant Director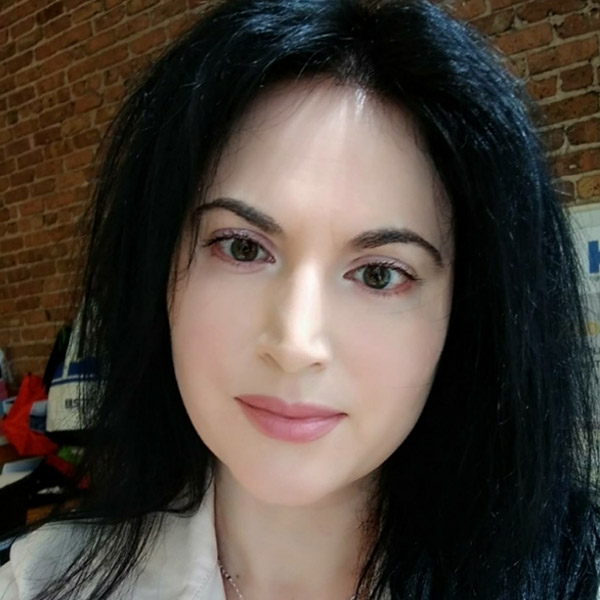 Natalija Kosic
Administrative Assistant
---
"This has been an exciting year for KID's Young Professional Board. With the support of the new Assistant Director, we recruited many new members from various walks of life. The fresh perspectives have reenergized the board and how we engage with the organization in its endeavor to make a difference." - Poonam Sharma, KID YP Board President
Young Professional Board
Poonam Sharma

President
Tom Buck
Mike Butler
Hannah Costigan Cowles
Lakshmi Jampana
Anne Kozisek
Tommie Robinson
Sheila Shankar
Alex Vargas
Jess Williams
UChicago Work Study
Maya Baumann
Monika Cabaj
Genevieve DeGange
Paola DelToro
Ashley Galbraith
Kristen Gore
Alaziah Moore
David Morales Lam
Madeleine Phelan
KID Volunteers and Interns
Caheri Aguilar
Lesley Arroyo
Wendy Bautista
Brittany Bedford
Michelle Blackman
Martin Bossert
Hanh Cao
Sarah Chusid
Katie Costigan
Libby Costigan
Celia Cullom
Roberta Goldner
Sabina Hanani
Sabrina Haque
Elizabeth Juarez
Jasmine Kwong
Consuelo Lopez
Mateo Olvera-Sandoval
Esmeil Naqeeb
Ismael Peralta
Stefan Petrovic
Kiran Adeela Qamar
Abby Rader
Julian Skosey-Lalonde
Aliya Syed
Stella Van Den Eeden
Guilherme Vasconcellos
Brianna Wellen
Sue Wellen
Kelly Wambo
Brittney Wilson
By the Numbers
1,250
+
volunteer hours ($31,788 value)
+
829
=
work study hours ($17,135 value)
=
2,079
total hours $48,923 value
The Year in Action
A KID Report: 2018 Children's Product Recalls
KID releases a yearly report analyzing children's product recalls from the previous year. This year's report revealed the number of children's product recalls in 2018 (52 recalls) decreased 44% from 2017 (93 recalls), the lowest in at least 10 years. Nursery products accounted for the largest group (25%) of children's products recalled in 2018. This is troubling because caregivers specifically purchase nursery products to keep children safe while sleeping, traveling and eating. While the CPSC has stated that one child dies every 11 days from a furniture or TV tip-over, there were no recalls in 2018 for furniture tip-over hazards. Both the CPSC and manufacturers used Facebook to publicize recalls at lower rates in 2018 compared to 2017. CPSC posted only 45% of 2018 children's products recalls on its Facebook page—a sharp decrease from 75% in 2017, the first year CPSC used Facebook. Of the 48 companies who issued recalls in 2018, only 31% were announced on the company's Facebook page, down from 51% in 2017. KID urged CPSC and manufacturers to do a more effective job in getting dangerous recalled products out of homes.
2018 Product Recalls by Category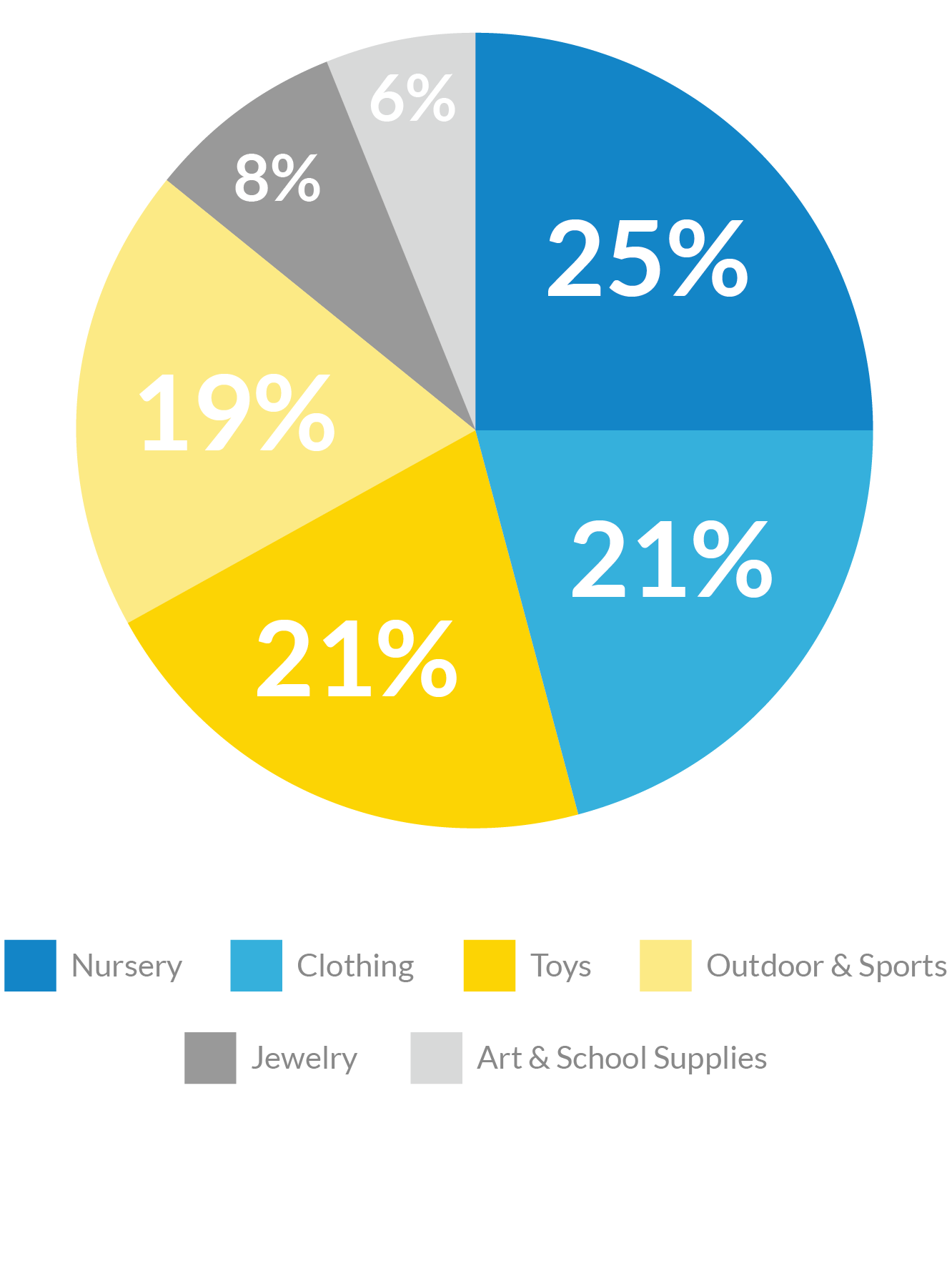 Social Media and Companies Responsible for 2018 Recalls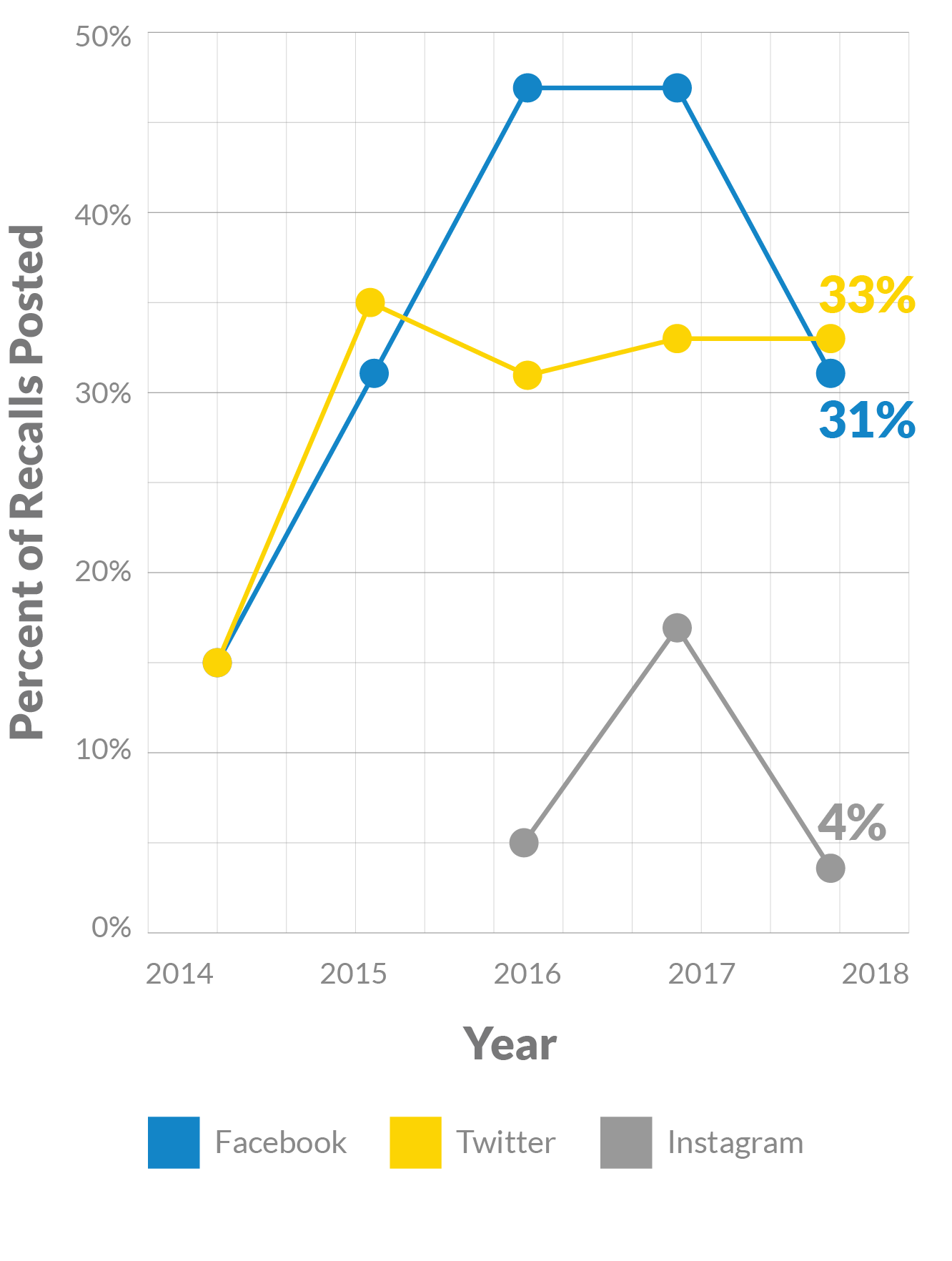 In FY 2019, KID distributed
OVER 6,400

booklets and other safety info including:

Product

Total Distributed

Children's Product Safety Guide

1,441

Brochures for grandparents
in English & Spanish

314

Safe Sleep Checklist

1,141

Bookmarks

1,769

Magnets

344
Advocacy Spotlight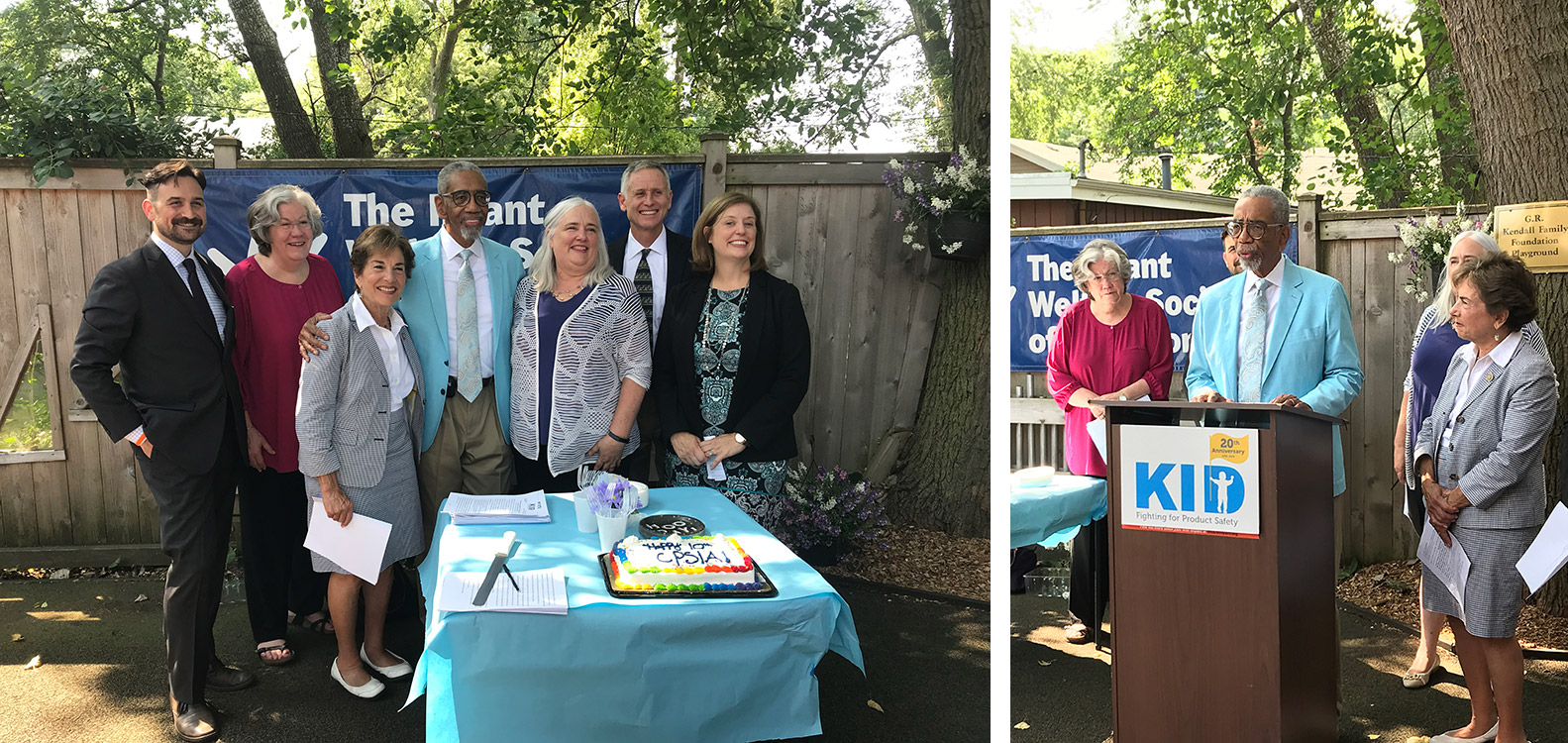 On August 8, 2018, KID gathered with partners and policymakers to mark the 10th Anniversary of the Consumer Product Safety Improvement Act of 2008. The landmark Act increased the U.S. Consumer Product Safety Commission's (CPSC) ability to keep consumers safe, including requirements for mandatory standards and product registration programs under "Danny's Law," named for Danny Keysar. In particular, the safety of cribs has improved greatly since the passage of the CPSIA with recalls dropping to zero most years.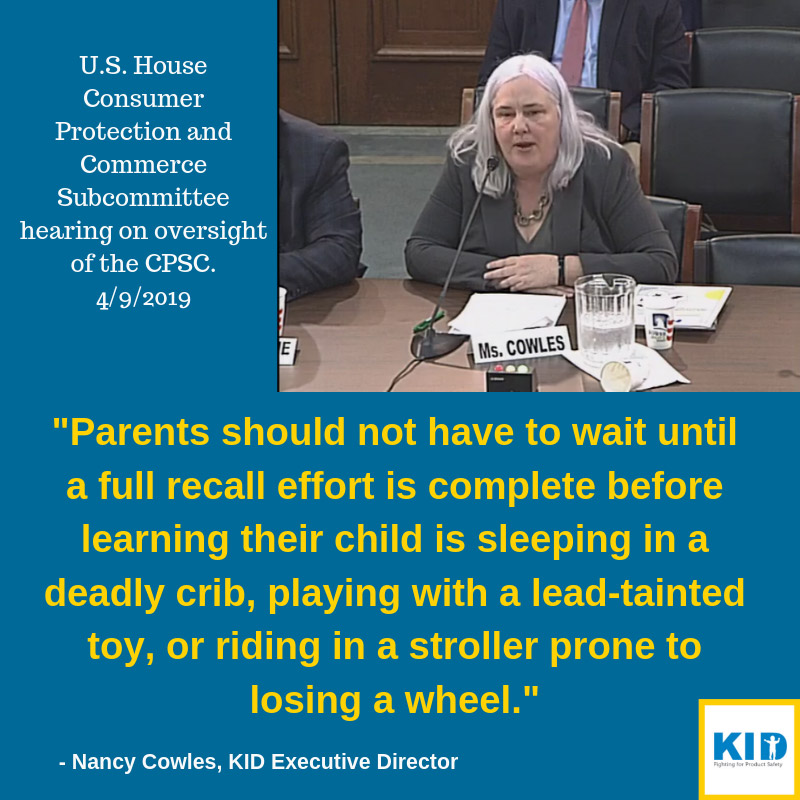 But it wasn't only looking back this year. KID Executive Director Nancy Cowles testified in April 2019 before the U.S. House Subcommittee on Consumer Protection and Commerce on CPSC and the need to improve product safety including recall effectiveness, safe sleep and furniture tip-over. In March, in addition to announcing our annual report on children's product recalls, we again joined with partners and lawmakers to announce new legislation—the STURDY Act—to require strong standards for clothing storage units to prevent tip-overs.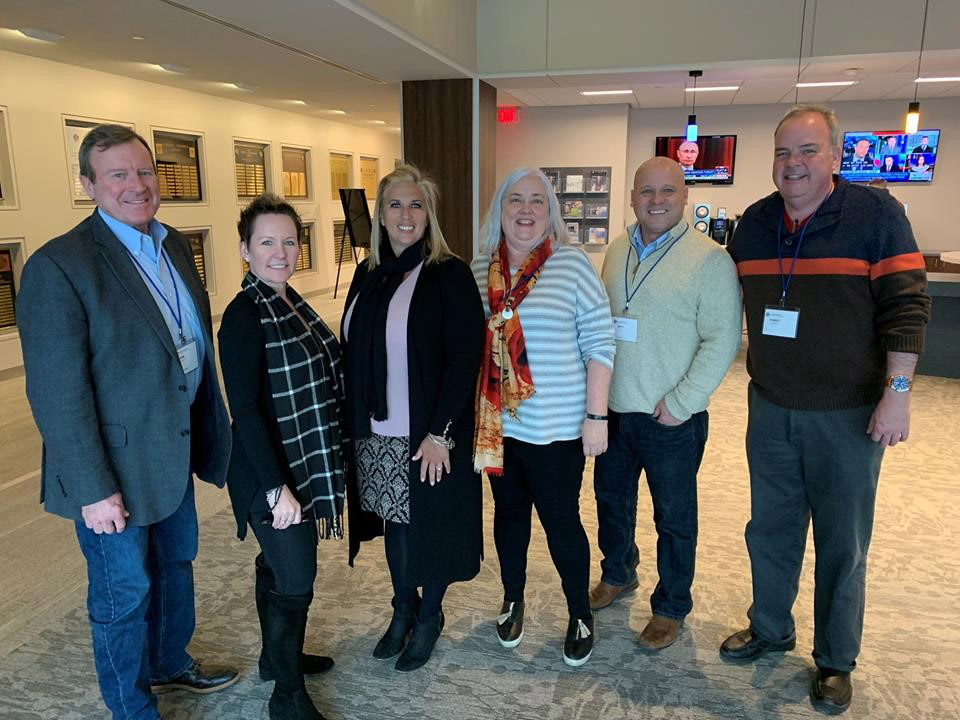 An important part of KID's work is building coalitions and supporting parent advocates. Here we are at an ASTM International Standard setting meeting on furniture safety with Consumer Reports and members of Parents Against Tip-overs—all families who have lost children to this preventable hazard.
Outreach Gallery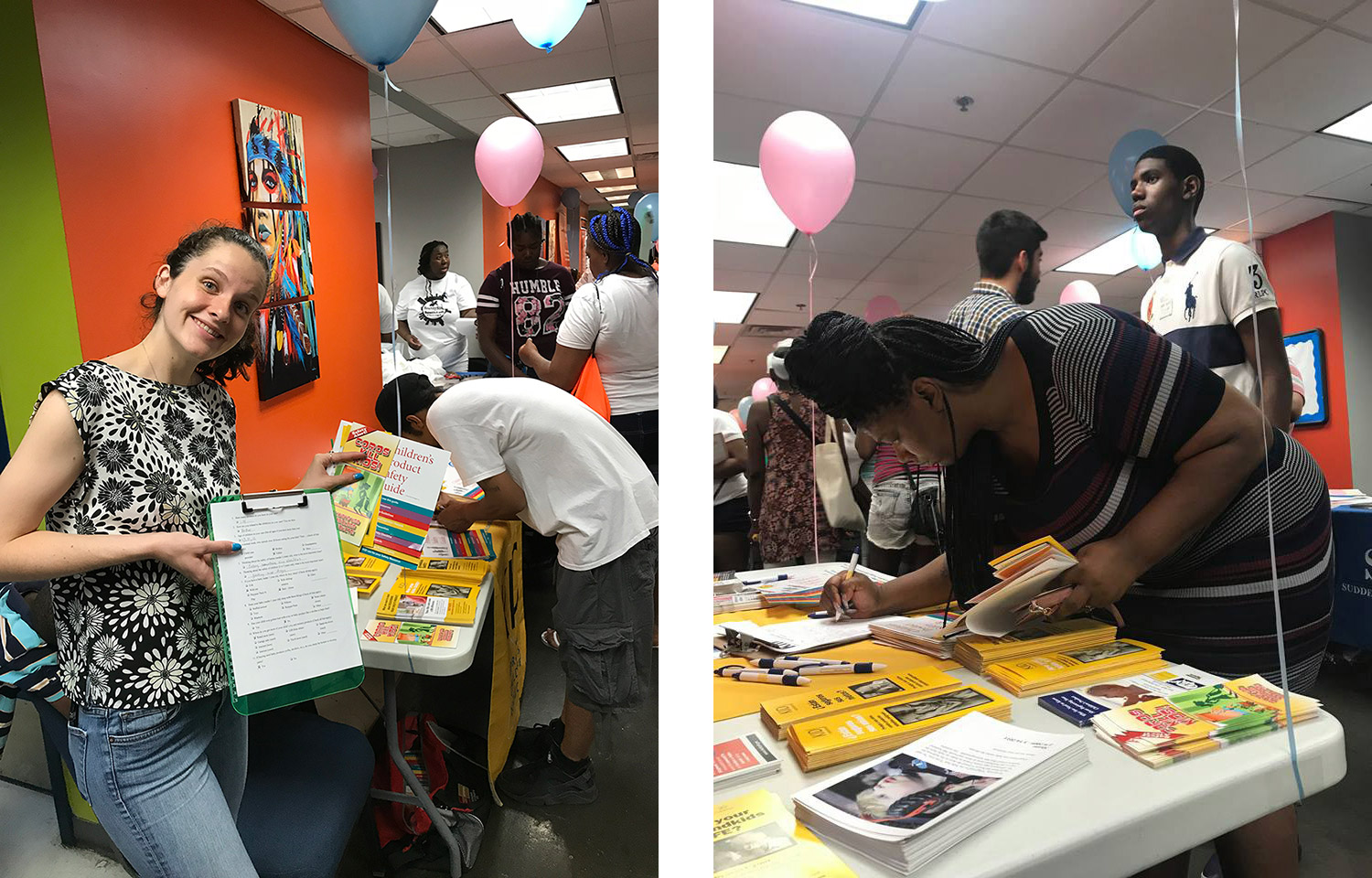 KID Program Director Carson Gaffney and volunteers attended the "World's Largest Baby Shower" hosted by Project H.O.O.D. in the Englewood neighborhood of Chicago. At least 1,000 young and single parents got information from KID on keeping their babies safe and helped KID gather information to better focus our safety messaging to meet their needs.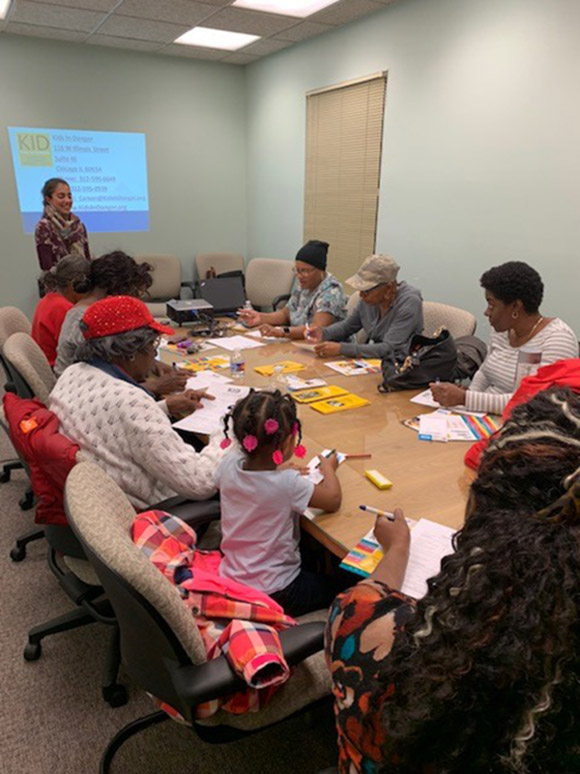 KID's first field placement intern from Erikson Institute Master of Social Work program, Sabina Hanani, helped build KID's outreach program, including this training for child care providers held in Westchester, Illinois.
KID provided 120 health care providers, child care providers and parents with our "Creating Safe Environments" and "Safe Sleep" workshops and reached 1,200 families at fairs and outreach events throughout Chicagoland including:
Tuesday's Child
Simpson Academy
Westchester Child Care Network
Family Focus Lawndale
4C Community Coordinated Childcare
Rush Pediatric Primary Care Center
CPS Healthy Kids Resource Fair
Illini Health Care Fair
Berwyn Health Fair
Lincoln Bellwood Expo
Designing for Safety:
From the Classroom to the Marketplace
KID continued our Teach Early Safety Testing (TEST) Program in university engineering departments. Students at Northwestern University's Segal Design Institute took a closer look at two products associated with injuries—strollers and bedroom dressers. The teams researched injury patterns, spoke to users throughout the process and developed prototypes to address known hazards. As the pictures show, the dresser teams came up with unique solutions to a tipping dresser and the stroller group addressed braking, stability and pinch point hazards.
In addition, KID's board set as a strategic goal, working towards a program to reach entrepreneurs and small companies with design safety materials and insights to increase the safety of products entering the market.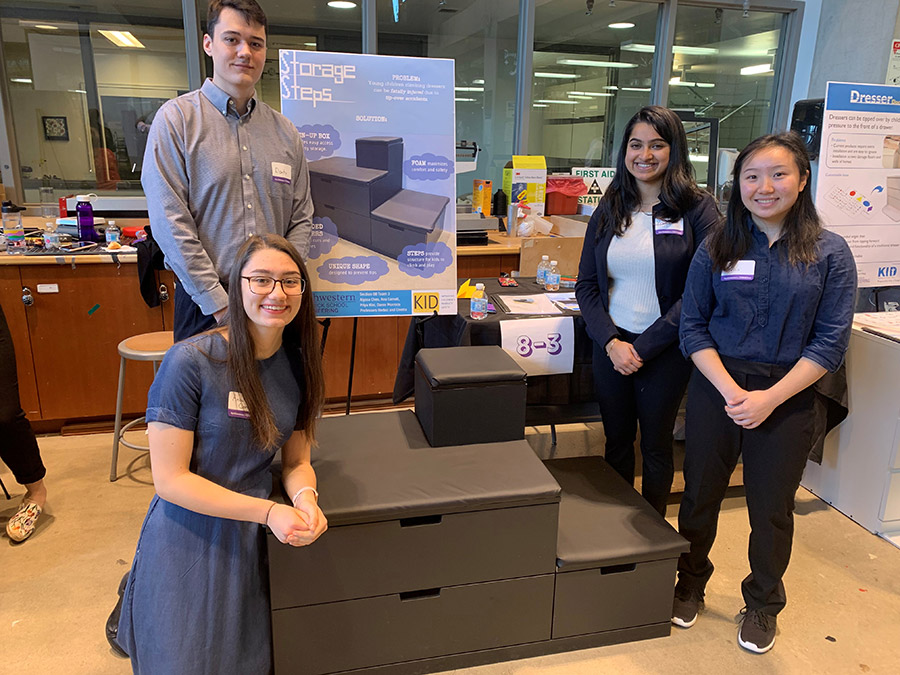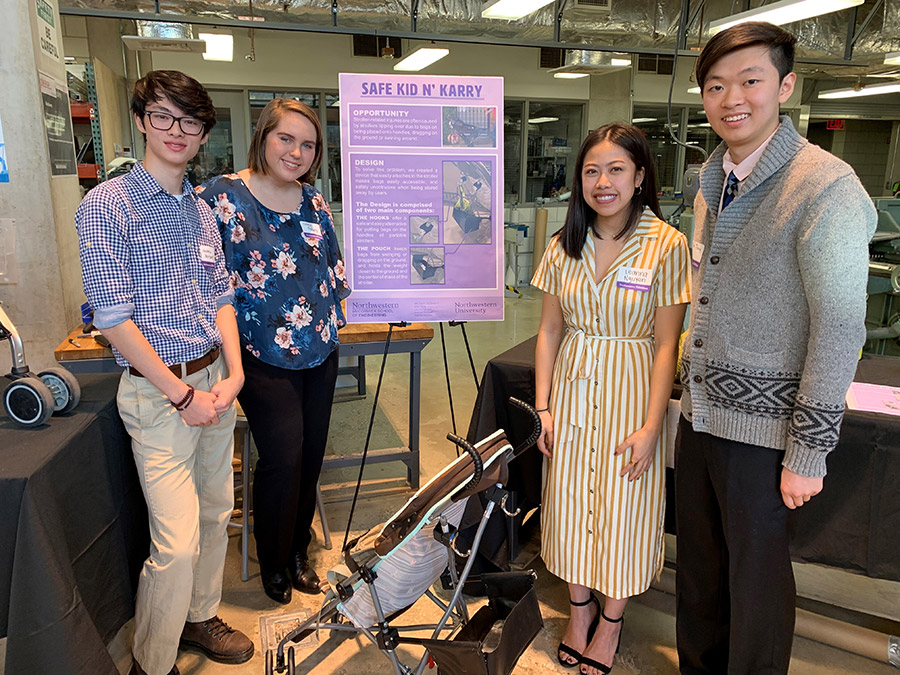 Financial FY19
Summary of Financial Position as of May 31, 2019
Assets
Current Assets
Fixed Assets
Total Assets
$201,063
$0
$201,063
Summary of Revenues & Expenses
Net Assets Support
Net Fundraising Support
Public Contributions
Interest Income
Total Support
$14,590
$171,163
$401
$186,154
Liabilities & Net Assets
Current Liabilities
Unrestricted Net Assets
Restricted Net Assets
Total Liabilities & Net Assets
$6,620
$194,443
$0
$201,063
Expenses
Program Services
Administration
Total Expenses
Increase in Net Assets
$191,144
$29,443
$220,587
-$34,433
Summary of Expenses
Sources of Support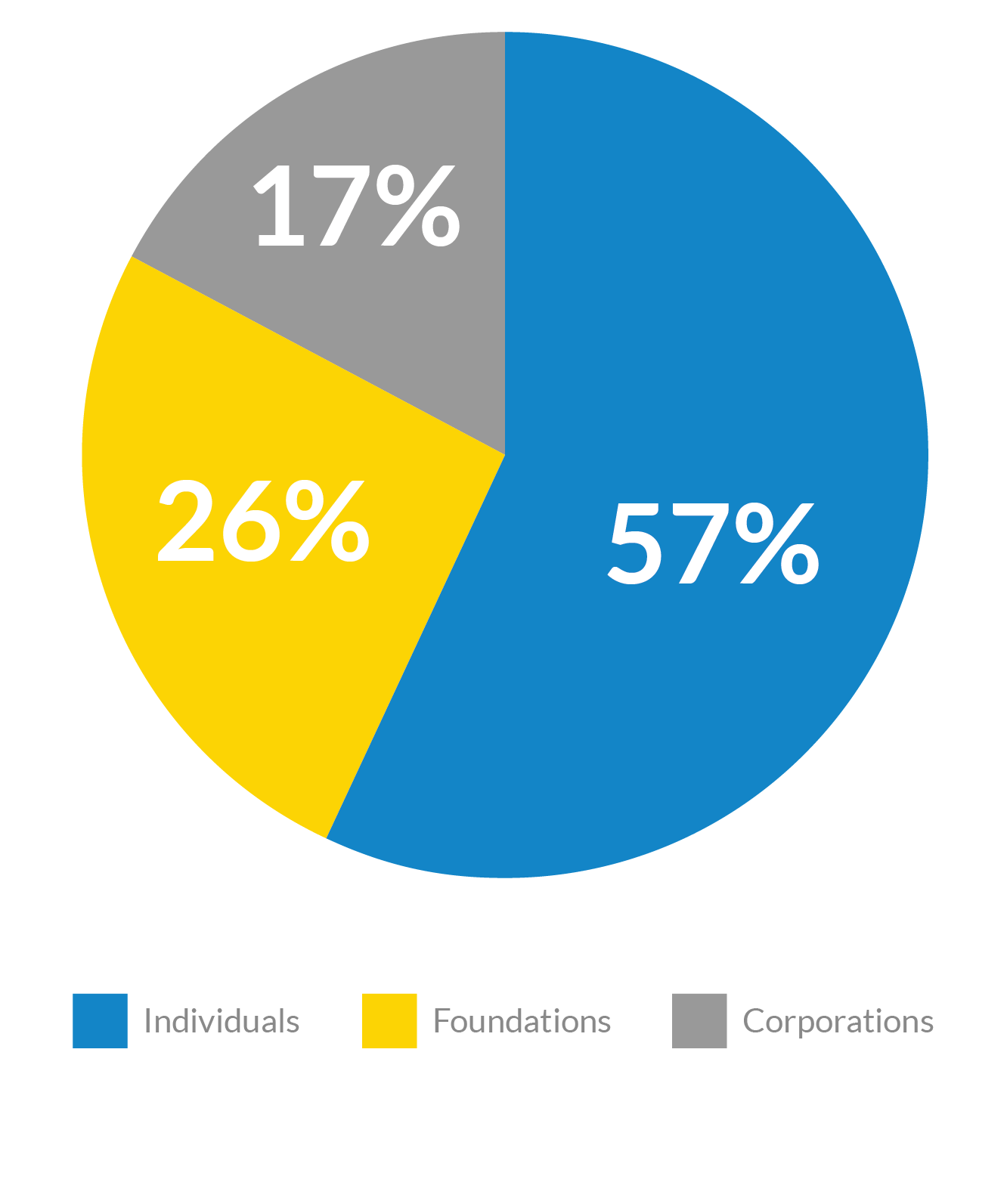 Best Friend Award Night
Each year, KID commemorates our progress, honors the memory of Danny Keysar and other victims of unsafe children's products and highlights the contributions of child safety champions.
The KID Best Friend Award Night brings together community leaders, safety advocates, families and KID supporters. The funds raised at this event allow us to continue our valuable outreach and provide a strong voice for safety.
KID held its annual BFA Night on April 30, 2019, at Galleria Marchetti in Chicago, where guests were treated to small plates from amazing Chicago chefs, a live auction, and a moving speech by honoree Nicole Hughes. This year, KID honored parent advocates Nicole & Jonathan Hughes, and Morgan & Bode Miller, who lost young children to drowning. In honor of their children, both families have devoted their efforts to educating the public about pool safety and the dangers of water hazards by sharing life-saving resources.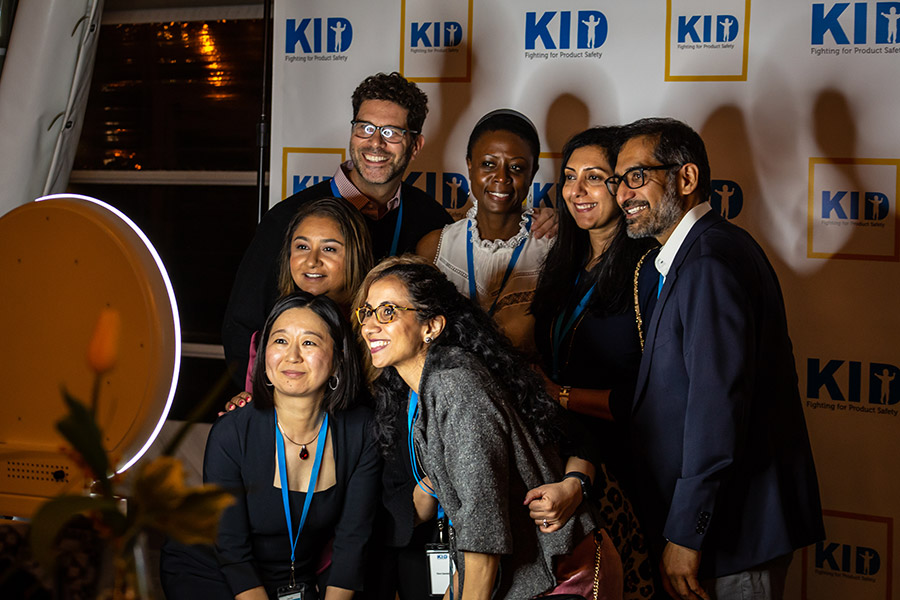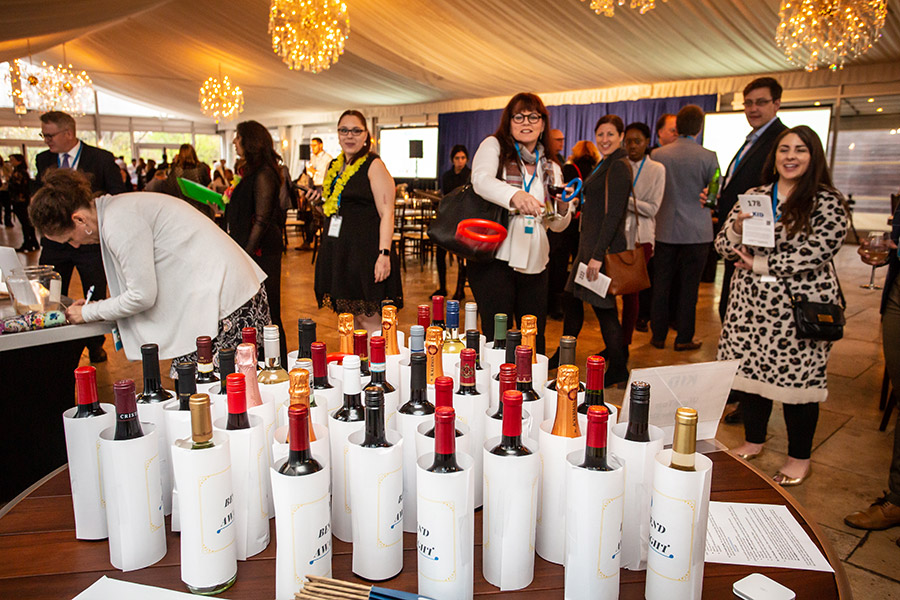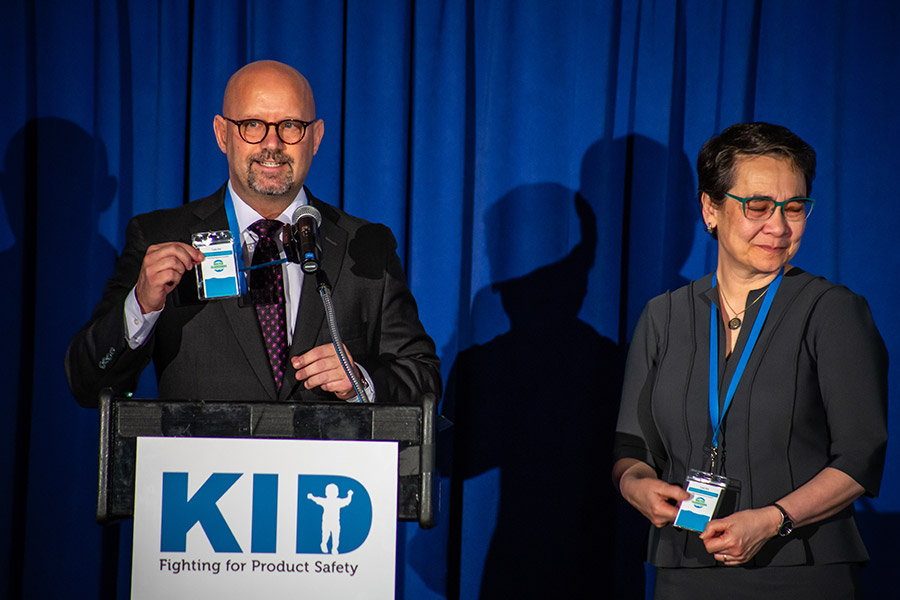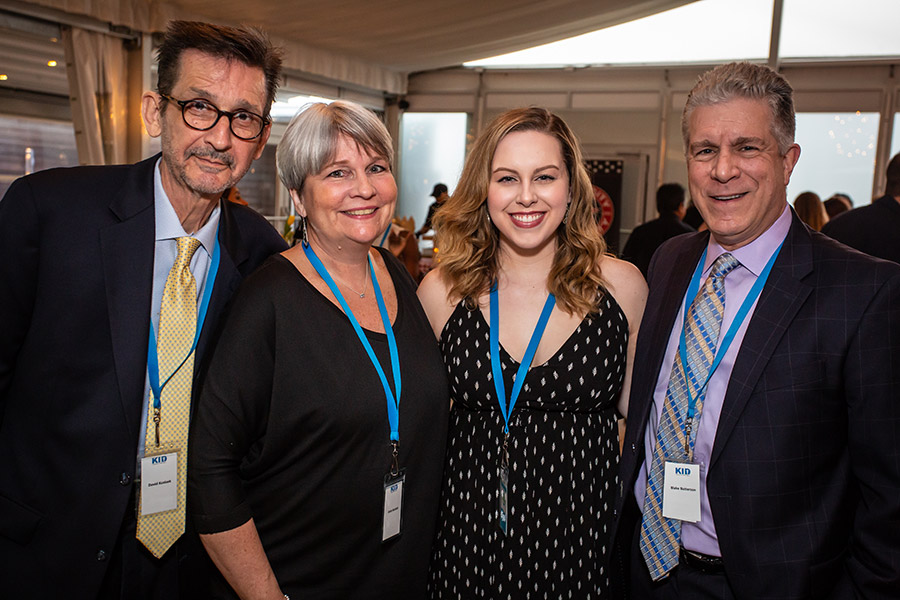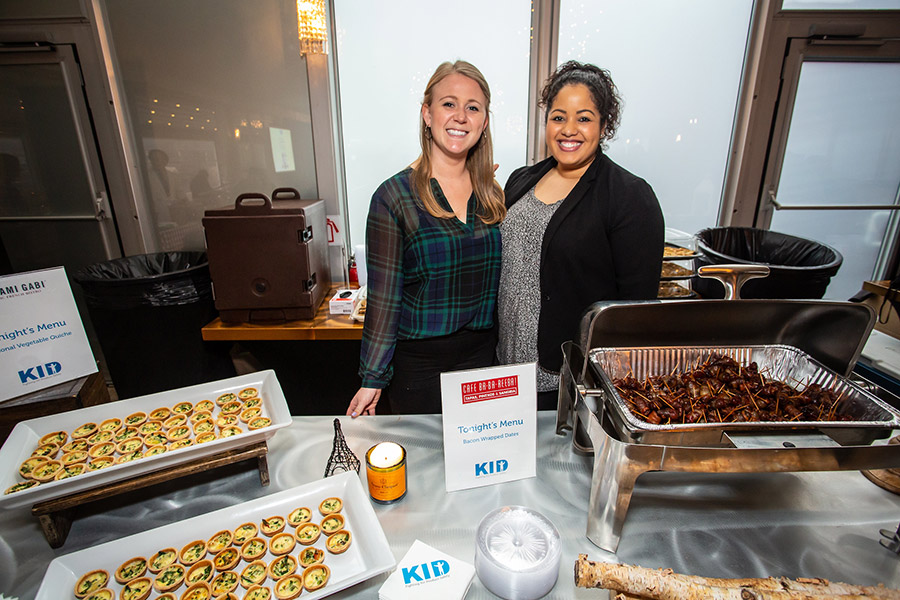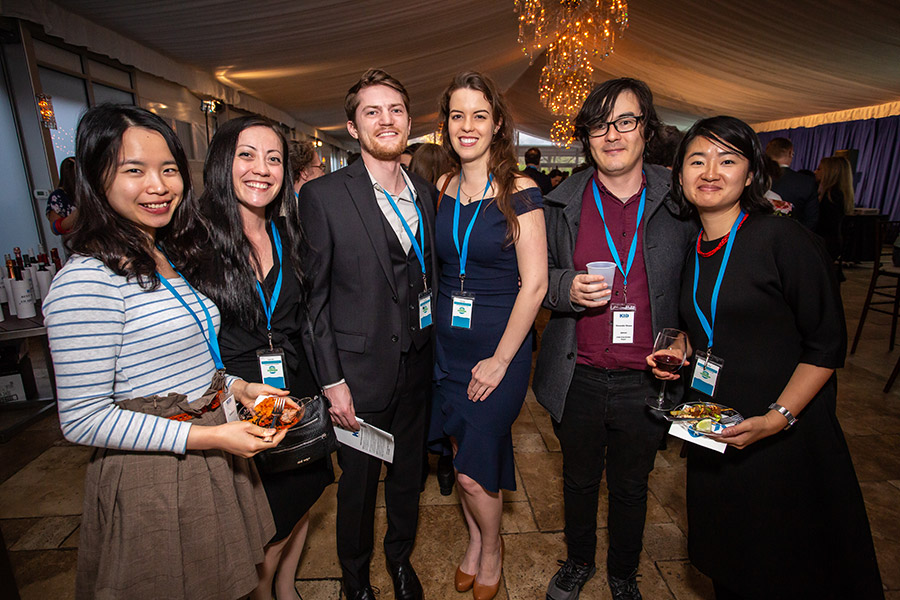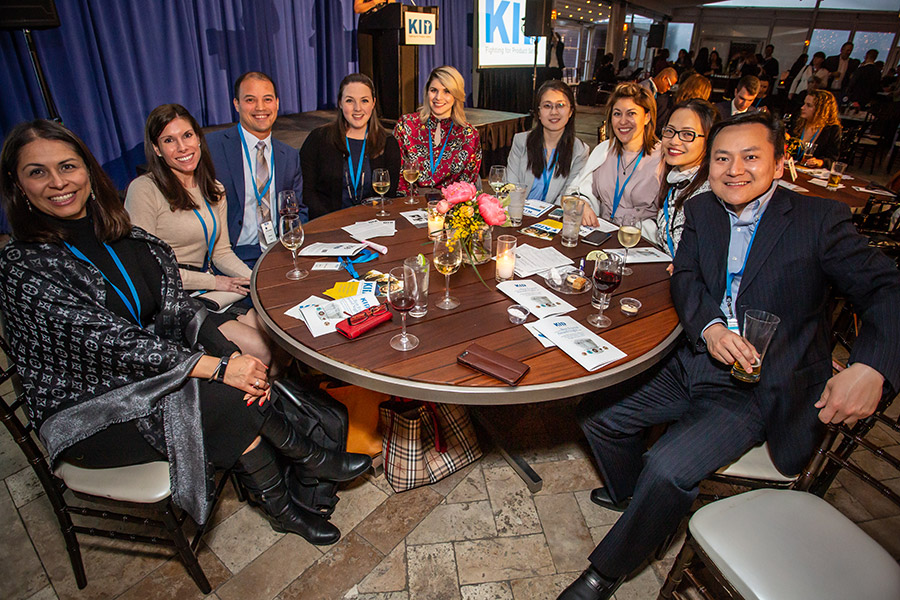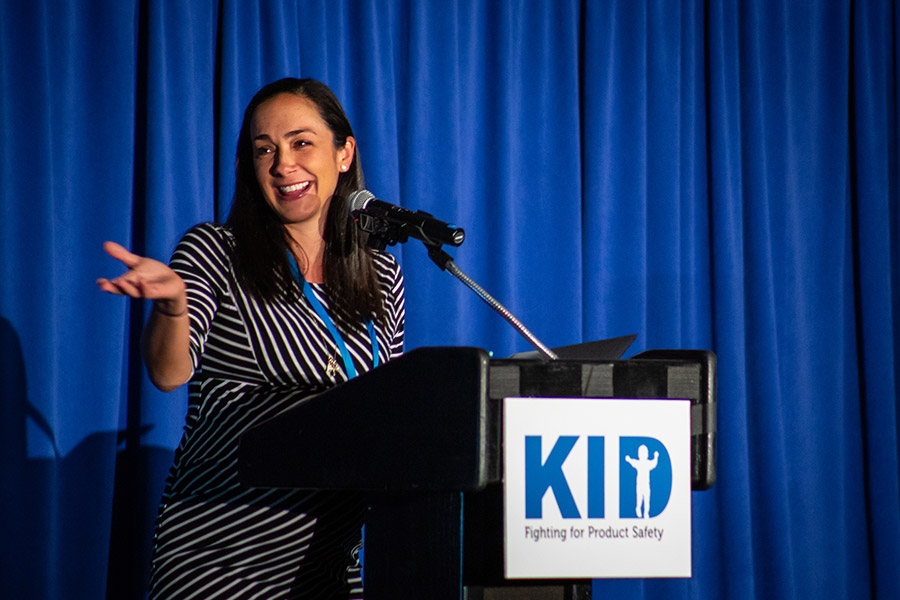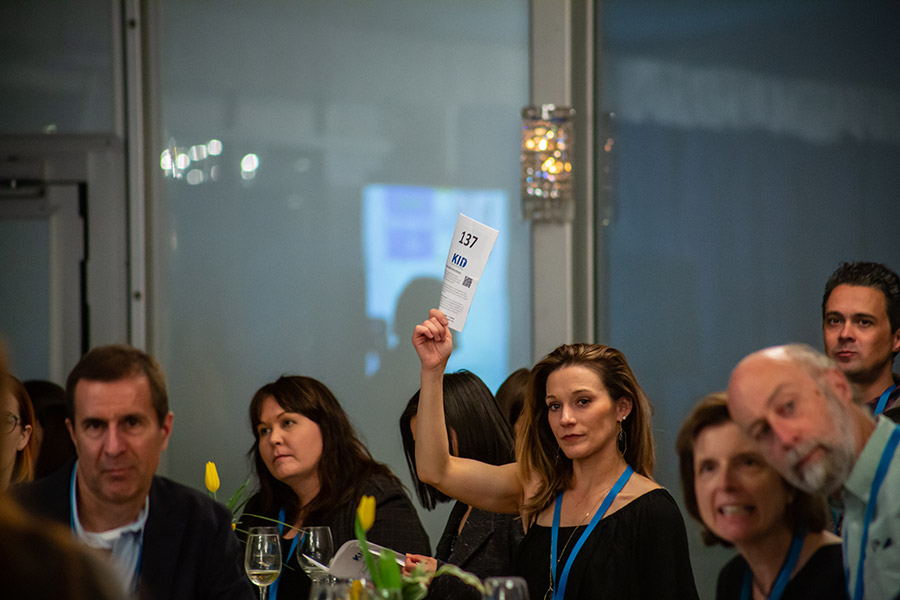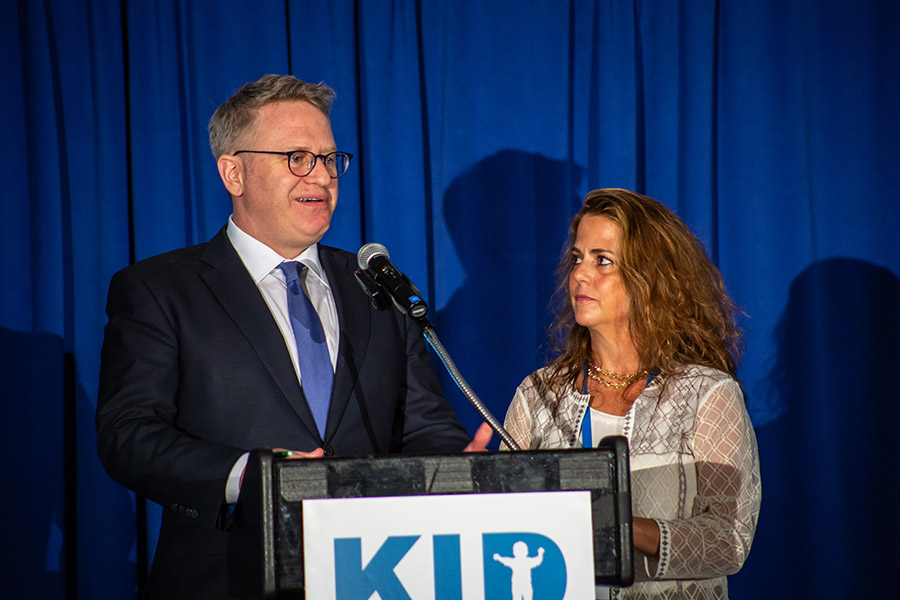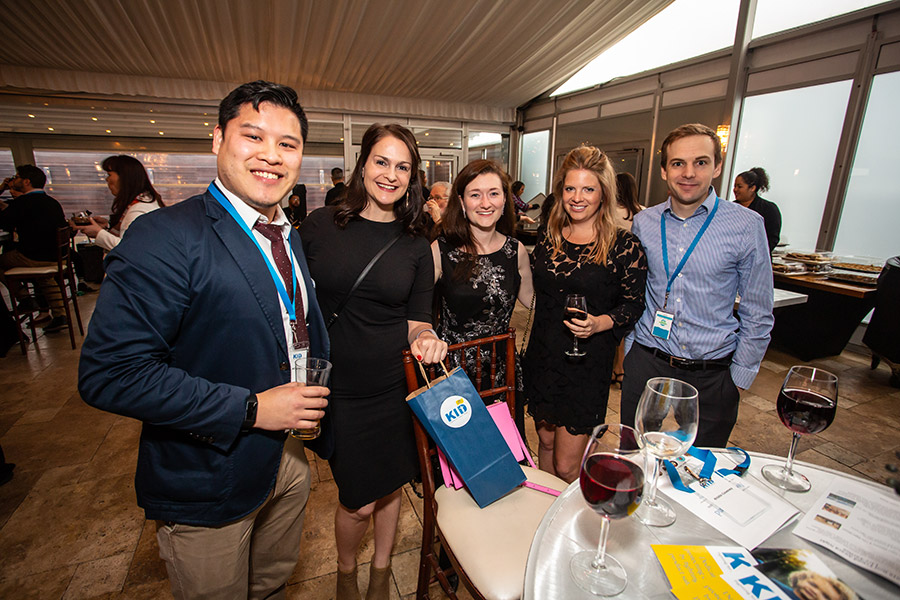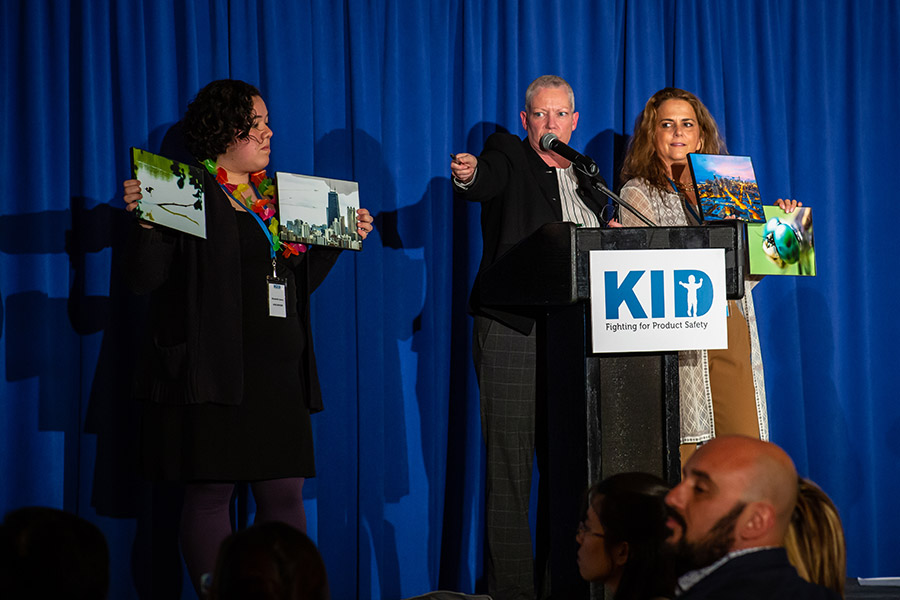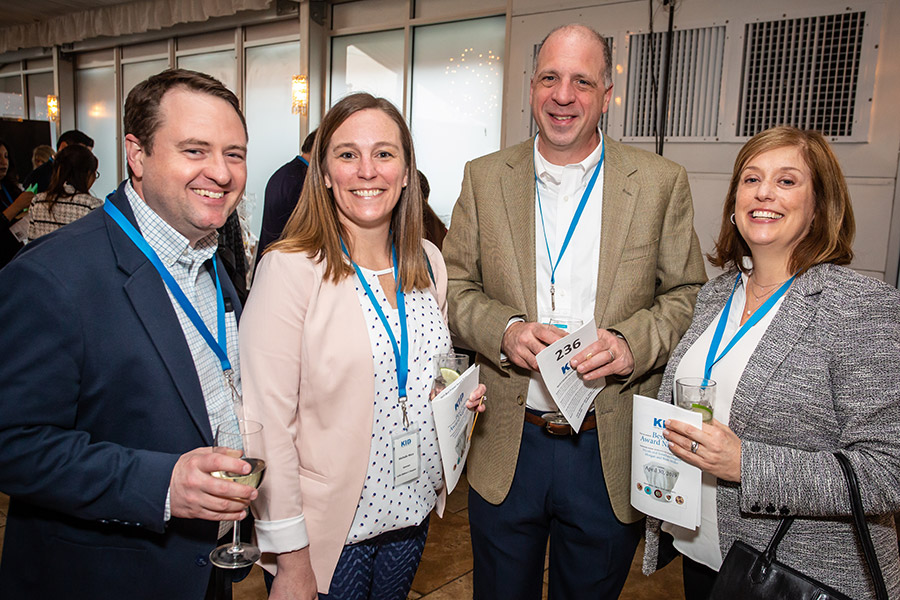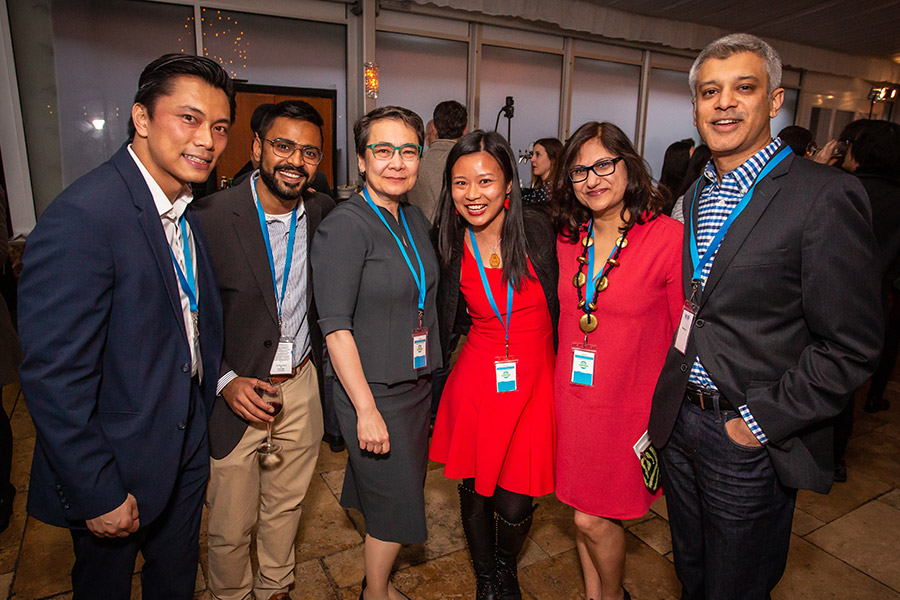 Thank You to Our Generous Donors!
Champions
($15,000+)
The Philip H. Corboy Foundation
Marquette Associates
Defenders
($10,000-$14,999)
Linda Ginzel & Boaz Keysar
Protectors
($5,000-$9,999)
GATX Corporation
Perry Lentine & Heather Mason
Danny & Anne Shapiro
Tomasik Kotin Kasserman LLC
Heroes
($2,500-$4,999)
BreathableBaby
Dawn & Shawn Kasserman
Richard Larrick & Cynthia Monarrez
Jeremy & Janet McGee
William Prinzmetal
Jill & Bob Tanz
Turano Baking Company
Lisa Turano
Advocates
($1,000-$2,499)
Anat Admati & David Kreps
Joline Breegr
The Chicago Booth Alumni Club
Chicago Booth Real Estate Alumni Group
Sarah Clarke & Omri Ben-Shahar
Ann & Robert H. Lurie Children's Hospital of Chicago
John Cowles
Kay Deaux & Sam Glucksberg
Eugene & Sally Fama
Sonny Garg & Julia Harris
Myung Ja Ginzel
William Meadow & Susan Goldin-Meadow
Halo Innovations
Amy & Kevin Hogan
Megan Kelly & Bill Wolf
Don Mays
Kathy Morris
Susan Nied
Marisol Pantoja
Barbara Passy
Kyran & Maura Quinlan
The Romano Family Foundation
Lawrence Sayah
Karen Sheehan, MD
Drew & Jen Weller
Sustainers
($500-$999)
Leslie & Blake Batterson
Jeanne Brett & Steve Goldberg
Hannah Costigan Cowles
Suzanne & Harry Davis
Jonathan Eig & Jennifer Tescher
Irene Freeman & Robert Mc Donald
Daniel T. Gilbert & Marilyn Oliphant
Noah Goldstein
Scott Hawley
Amy Hill
Leslie Kaiser
Holly Knightly
Dan & Jean Kotin
So Man Kwong
The Lineweaver Trust
Gale Lukat
Toby & Bonnie Moskowitz
Lotika & Girish Pai
Kristina & Daniel Paschall
Elizabeth Powell, MD
Ayesha Rafique
Holly Raider
Judy & Mark Sage
Timothy & Jill Schlindwein
Tony Scott-Green & Lisa Kueng
Leslie & Steven Swibel
Linda Erf Swift
Andrew & Ellen Weller
Foundation Grants
Reva and David Logan Foundation
Alvin Baum Family Fund
Sylvia Ziontz Foundation
The Turano Foundation
In-Kind Donations
Amy Cordell Design
University of Chicago Gleacher Center
Gotho Collective
Imagination Designers
JB Graphics
Knaack 4 Design
Lakeshore Audiovisual
Modern Luxury
Revel Décor
Wolfgang Puck Catering
Matching Gifts Companies
Abbott Laboratories
American Institute for Foreign Study
Aon Foundation
Exelon / Dollars for Doers
GE Foundation
Greater Horizons
Mattel Children's Foundation
Samsung Electronics America, Inc
SAP Software Solutions
UL
Workplace Giving Campaigns
Independent Charities of America
City of Chicago
United Way of San Luis Obispo County
UL Employee Giving Program
Guardians
($250-$499)
Pam Abrams & Paul Kligfield
Deborah & Robert Z. Aliber
Susan Allen
Jennifer Barbieri
John Benedict
Meaghan Benjamin
Raymond & Susan Black
Marc Blumenthal & Sharon Veis
Mary Brandon
Jane & Dennis Carlton
Rita & Steve Cevaal
Philip & Margaret Corboy
Andy J. Dahle
Ellen Rudnick & Paul Earle
Ellen & John Engel
Alon & Ayelet Fishbach
Frank J. Baker & Co., Ltd
Kevin & Jojie Gallagher
Arturo Gallegos
Austan Goolsbee & Robin Winters
Vasanthi Gowda
Steve & Cathy Haas
Julia Henly & Bernd Wittenbrink
Samir Jabr
David Kagan & Analisa Lafontant
Gail & Kevin Kalinich
Paul Karabush
Jennifer LaMalfa
Barry Lesht & Kay Schichtel
Susan & Michael Levine
Levittown Extraclassrom Activities
Tony Lim
Michelle Macy
Gary McCallister
Tanya Menon Gandhi & Prithvi Gandhi
Gourija Menon
Carol Miller
Michelle Million & Michael Ranney
Robert Montgomery
Paula Packer
Diane Gutmann & Thomas Palay
Matthew Pfeffer
Jacqueline Ponder
Guy & Naama Rolnik
Shehnaz Safiuddin
Deborah Salmon
Michael Shammas
Leonard & Robin Soffer
Daniel Sternberg
Joseph Torres
Marcy A. Twardak
Penny Visser & George Wu
Karen & John Wheatley
Rauf & Amena Yousuf
Anastasia Zakolyukina
Allies
($100-$249)
Nisa Agrawal
Amazon Smile
Kenneth Bardach
Colin & Kristen Beck
Kevin & Melinda Bendle
Elizabeth Bloomer
Gordon Bower
Julia Brady
Susan Brennan
Thomas & Renee Buck
Dini Burt
Kristen & Hailey Buton
Elisabeth & Dan Case
John L. Cella, Jr. & Laura D. Prail
Chenjianning
Amy Cordell
David & Mary Costigan
Ginny & Todd Costigan
Linda Covington & Steven Sloman
Peter Coy & Ariela Keysar
Selene Diaz
Johanna Dillon
Nancy & Tom Donley
Tal Eyal & Oded Ovadia
Debbie & John Fallahay
George Foster
Anne & Ken Frantzen
Kacey Fung
Michael Gibbs & Kathryn Ierulli
Joanne Gilbert & Mike Bishop
Jim & Jenny Gillespie
Heidi & Ryan Gillmore
H. Reed Harris & Pamela Hoxsey
Lance & Ann Hopkins Avery
Robert & Frances Hughes
Robert & Nancy Jackson
Lakshmi Jampana
Sofia Jones
Steve Kaplan & Carol Rubin
Nicole Kasserman
Leslie Kay & Maryellen Begley
Shelley & Edward Keller
Amy Kelly & Janna Lombardo
Tomoko Kizawa
Katie & Dave Kozisek
Jasmine Kwong
Ajay Lakshman
Patricia La Malfa
Valorie & Bruce Langille
Irene Leech
Matt & Sara Logar
Agnes Lugo-Ortiz & Diane Miliotes
Martin Marcus
Lynn Marek
Carmen Marti
Nancy Maruyama, RN
Ashley McFee
Vaishak & Cailyn Mittur
Andrea Murphy
Margret Nickels
Laura Nikolovska
Aromie Noe & Halsey Rogers
Michael Norton
Lisa Olney
Jason Osborn
Roberto Paniagua
Sam & Nancy Peltzman
Mitchell & Beverly Petersen
Kitty & Mike Pilarz
Domenica Piragine
Sangeeta Prasad
Erica Qualls
Tommie Robinson
Nicole Rogers
Oscar Romero
Scott & Diane Salk
Kinsey Salvatore
Esra Sander
Carol Senderowitz
Steve Shevell & Jeanne Marsh
Maxwell Shuftan
Gail Siegel
Barry & Tina Silverman
Laura Skosey
Stuart Family
Wilson Sun
Abigail & Jason Sussman
Marion Synowiec
Amy & Jon Szostak
Katherine & Kenneth Tallering
Jean Tinsley
Tim Travers
Leah Wade Ippolito
Lisa & Benjamin Waisbren
Robert & Donna Weinstein
Erin Welsh
Lindsay Wietfeld
Jess & Mark Williams
Joan Winstein
David Zivan
View More
Supporters
($1-$99)
Baber Abbas
Lina Abbott
Ray Ajormaz
Kathy Allen
Ashley Angulo
Antoine Jennings
Stav Atir
Ashwin Avasarala
Cheryl & Wayne Baker
Ragoth Bala
Megana Balentine
Krishna Battula
Monte Beaty
Beautykind Foundation
David Bentkowski
Sandu Berschadski & Susan Masula
Thomas Besore
Joanne Bianchi
Chris Bisallion
Andrea Blackman
Rosalind Blaurock
Matthew Bloom
Jeffrey Blumenthal
Joanne Bregman
Carolyn Brewer
Cheryl Budinich
Heather Burke
Jennifer Burnes
Leigh Burnett & John Grant
Michael Butler
Katie Buttler Richburg
Kathy Carney
Lisa Caro
Marisa Carrasco & Jim Fernandez
Dorian Carter
Kristin Cass
Abigail Castiglione
Virginia Chandler
Maureen Cherwin
LanPeng Chin
Christopher Chinn
Kelly Chitwood
Will Chung
Vanessa Churchill
Kevan Citta
Zac Colip
Camden Cornwell
Elizabeth Costigan
Elizabeth Cozzi
Todd & Katie Dagenais
Marilyn Dawson & Phil Thompson
Omaima Degani-Alavi
Jenny DeGroot
Edgar Delgado
Keith Dipple
Yiqing Dong
Judith Dow
Amanda Freeman
Elliot & Tamar Frolichstein-Appel
Gillian Fry
Denise Furlong
Mohan & Asha Garg
Susan Gelman
Larry Golden
Roberta Goldner
Aaron Goltz
Solskin Gomez-Krogh
Goodshop
Jennifer Goodsmith
Natalie Goodwin
Josh Gordon
Michael Green
Paula Haggerty
Nancy Hayes
Cynthia Hillman
Jill Hines
Donna Hippensteel
Shira Hirsh
Guy & Helene Hogarth-Delmas
Kristin Hull
Montroy Hunter
Rani Isenberg & William Landes
Ting Jiang
Julie Johnson & Lance Rips
Shelby Johnson
Ms. Virginia Jones
Nidhi Kapoor
Michael Kardas
Paul & Vicki Kendall
Joseph Kesner
Hagit Keysar & Elad Orian
Hussain Khan
Naren Khare
Claire & Paul Kirner
Keri Brown Kirschman
Akkaravuth Kopsombut
Heejai Kwon
Lisa La Vallee
Jenny Lam
Pavel & Sheri Latash
Ronnie Lee
Kyle Leland
Madison Lo
Gretchen Mako
Paul Mako
Allison Mason
Karen McCarthy
Katharine McCormick
Amy McDavid
William McGuiness
Bob Michaelson
Saurabh Mittal
Jayanthi Mittur
Carrie Moran
Cindy Nguyen
Kathryn Nishimura
Laura & John Nolan
Elsy Ocejo
Karl Oder
Jason Ormond
Carrie Ost
Himali Patel
Rupal Patel
Nicole Pegues Riepl
Marisela Perez
Dayna Perlut
Julie Peterson
Lindsay Proskey
Michelle Reinen
Scott Reiter & Rachel Weintraub
Natalie Rende
Margaret Riehl
Syed Rizvi
Luci Roberts
Aaron Rodgers
Dawan Sadrud -Din
Burton & Fredda Sage
Neil Saha
Steven Saltzman
Ash Sastry
Miriam & Harvey Schiller
Cynthia Schuch & Michael Lynch
Diane Schultz
Sheila Shankar
Poonam Sharma
Karen Shields
Susan & Richard Shores
Gillian Siegel & Steven Gillman
Archita & Nagen Singh
Daniel Sirken
Cristina Sloan
Patrick Smith
Stephanie Smith
Kami Snowbarger
Anna Solomon
Paula Stahnke
Ryan Stecz
Judith Stein
Linda Stone & Frank McGhee
Mollie Stone & Patty Cuyler
Kyle Swanson
Thomas Talhelm
Phil Terrazzino
Michael S. Thompson
Leythette Timmons
Anne M. Tremmel
Kitty Tres Rios
Amol Tripathi
Karyn Usher
Tricia Van Eck
Alex Vargas
Todd Videbeck
Courtney & Paul Wachtel
Almarie Wagner
Gary Wainer & Beth Volin
Michael Wall
Sarah Ward
Adam Webber
Ed & Robin Weiss
Lauren White
Rebecca White & Mike Delejewski
Shannon White
Owen Williams
Nicole Witte
Kathy Zaba
Min Zheng
Noman Zubair
View More
Auction & Raffle Prize Donors
B. Hospitality Co.
Blue Plate Catering
Boka Catering Group
Bowlero Corporation
Chicago Bears Football Club
Chicago Blackhawks
Chicago White Sox
City Barbeque Deerfield
Cooper's Hawk
CrossTown Fitness
Gene & Georgetti
Gibsons Restaurant Group
Linda Ginzel
Amy Hill
Amy & Kevin Hogan
Inside Chicago Walking Tours
Jenny Gorman Photography
Leslie Kaiser
Koval Distillery
Lettuce Entertain You Enterprises, Inc.
Live Nation
Lou Malnati's Pizzeria
Gale Lukat
Chicago Wolves
Modern Luxury
Susan Nied
Quartino
Ravinia Festival
Shehnaz Safiuddin
The Cryo Bar Lincoln Park
The Peggy Notebaert Nature Museum
Truffleberry Market
Wines for Humanity