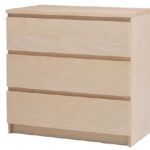 Once again, IKEA's tip-over prone dressers made headlines earlier this month, after IKEA agreed to pay $46 million to the family of Jozef Dudek who died after a recalled IKEA dresser tipped over on him.
Jozef would be turning five years old this April had he not been suffocated in 2017 by a recalled IKEA dresser. His parents had never been notified about the dangers of their recalled dresser even though they were on IKEA's email list and purchased the dresser with an IKEA credit card.
The Dudek family's attorney believes the settlement amount to be the largest ever settlement in a child's wrongful death case. IKEA also agreed to meet with Parents Against Tip-overs, a group of parents who have lost children to tip-overs, and broaden its outreach to educate the public about the recall (but with no specific details released as to how). This settlement follows a 2016 settlement when IKEA paid out $50 million to three families.
In July 2015, following the death of a child, IKEA and the CPSC stopped short of an official recall but instead released an education campaign encouraging consumers to anchor their dressers. Following the death of another child, IKEA finally recalled several dresser models including the MALM in June 2016, which amounted to 29 million total units. The recall removed the dressers from IKEA's shelves and website, but did not effectively remove them from homes. In November 2017, IKEA and CPSC re-announced the recall in response to Jozef's death while at the same time reducing the number of affected dressers by 12 million without any explanation. IKEA reports that only 420,000 out of 17.3 million recalled dressers were returned to stores, leaving millions more still in homes.
When the IKEA MALM dresser was originally sold in stores it did not meet the voluntary ASTM standard to prevent dresser tip-overs. Had IKEA launched a recall sooner, they could have avoided deaths and injuries, as well as the lawsuits that followed. To date, several different models of IKEA furniture have killed at least ten children.
Although nothing could come close to resolving the pain the Dudek family feels from losing their son so tragically, by speaking out so courageously and passionately, they will help educate other families about the dangers of dresser tip-overs.
KID will continue to work hard in our efforts of protecting children from dangerous products and encourage IKEA to do the same by utilizing all tools necessary to get their dangerous dressers out of homes for good. If you've experienced a tip-over incident even if it didn't result in an injury, report it at SaferProducts.gov.