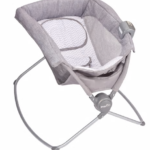 In response to warnings from both the CPSC and advocacy groups like KID about infant inclined sleep products, five products have already been recalled so far in 2020 – over 217,000 units in total:
All five sleep products were recalled due to suffocation risk to infants. Despite pressure from CPSC and consumer groups, many inclined sleepers still remain available for purchase.
The CPSC should recall all inclined sleeper that haven't yet been recalled such as the Baby Delight Nestle Nook Portable Infant Lounger, the Hiccapop DayDreamer Sleeper, and the 'angled napper' sold with the Chicco Lullaby Dream Playard. Parents should avoid purchasing any inclined sleeper, and retailers and online sellers should immediately stop selling them.
Inclined sleepers have been linked to at least 73 infant deaths. Safe sleep recommendations by the AAP call for babies to sleep alone, on their back, on a firm flat surface in a crib, play yard, or bassinet that meets that federal standard.
Four additional inclined sleepers were recalled last year: Fisher-Price Rock 'n Play Sleeper, Kids II Rocking Sleeper, and Dorel Inclined Sleeper, and Fisher-Price Ultra-Lite Day & Night Play Yard. View our flyer which has pictures of all nine sleep products that were recalled in 2019 and so far in 2020 and contact information for the companies to participate in the recall.
Check out KID's statement with Consumer Federation of America and Consumer Reports applauding the recall of four sleepers last month. If you've had an incident with an inclined sleeper, report it at SaferProducts.gov.