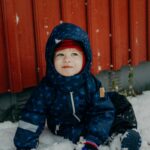 Cold weather? s-NO-w problem! As the temperature drops and the snow falls this winter, kids can't wait to bundle up or go play outside. Here are some helpful reminders for when you and your kids are enjoying the weather.
Remove your child's winter coat before buckling them in the car sear. While it might seem like your child is as snug as a bug in their seat, the coat takes up most of the space so if an accident does happen, your child will not be safely secured within the harness. Thick and puffy coats will compress on impact, leaving a dangerous gap which the baby can slip through.
Use helmets when ice skating. We protect our head while biking, roller blading, and skateboarding so take those added protections when ice skating as well. The AAP's journal Pediatrics conducted a study which showed head injuries for recreational ice skating was higher than other skating activities where helmets are recommended or required. Wear appropriate safety gear for any cold weather sport such as skiing or snowboarding, too.
Don't over wrap your baby at night. Overheating has been linked to Sudden Unexpected Infant Death (SUID). Your baby is comfortable at the same temperature you will be. The crib should be bare to prevent your baby from suffocating on any blankets, sheets, or toys. Use a wearable blanket or sleep sack if needed for warmth.
Check the CPCS's website for cold weather-related recalls. Snowsuits and winter coats have been recalled in recent years.
Keep calm and carry on safely during the winter weather. We hope you and your families have a fun and safe winter season. Report unsafe children's products at SaferProducts.gov.