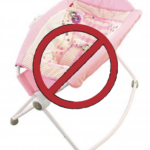 Today marks the one-year anniversary of the Fisher-Price Rock 'n Play sleeper recall. Thirty-two infant deaths were originally reported due to the Rock 'n Play, and a recent Consumer Reports study found an additional 19 deaths from the product. Since the recall, there has been progress towards getting all dangerous infant inclined sleepers off the market.
These additional inclined sleepers have been recalled since the Rock 'n Play:
View the list of recalled inclined sleepers and contact info for companies to participate in the recall. Note that you may experience delays due to COVID-19.
The Safe Sleep for Babies Act of 2019 passed in the U.S. House by a bipartisan vote. The Act would ban the entire class of infant inclined sleepers from the market, a move that KID has been pushing for years.
Retailers such as Amazon, eBay, Walmart, and Buy Buy Baby have removed inclined sleepers from their stores and websites.
The U.S. Consumer Product Safety Commission (CPSC) voted unanimously to move forward with a proposed a rule to adopt an Infant Sleep Product Standard that would essentially ban inclined sleep products and end the current practice of allowing new infant inclined sleep products to enter the market.
Although much has changed in the last year, more steps need to be taken to protect infants. The U.S. Senate should pass its version of the bill to prohibit inclined sleepers (Safe Sleep Act of 2019), and the CPSC should move forward with its proposed rule. View the letter sent to the CPSC this week from Consumer Reports, KID, AAP, CFA, U.S. PIRG, and Public Citizen requesting the agency to finalize the rule. And KID urges all retailers to follow the lead of Amazon, eBay, Walmart, and Buy Buy Baby and stop selling inclined sleepers.
If you've experienced an incident with a hazardous children's product, report it to the CPSC at SaferProducts.gov.