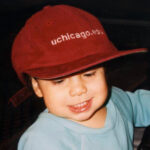 You may not be familiar with the name Danny Keysar, but this toddler launched a movement to revamp our country's child product safety system.
In early 1998, Danny's parents Linda Ginzel and Boaz Keysar were working parents, both professors, raising two young boys in Chicago. But a tragedy on May 12 started a new chapter in their lives – to advocate for children by fighting for safer products.
On May 12, 1998, Linda and Boaz's 16-month-old son Danny was strangled to death when his Playskool Travel-Lite portable crib collapsed and the folding side rail trapped his neck. Neither the licensed childcare facility he was at when the incident took place nor the state inspector who has recently visited the facility knew that the crib had been recalled five years earlier. Danny's parents later discovered that four other children had also been fatally entrapped by the same crib.
Turning their grief into advocacy, Linda and Boaz became "accidental advocates". They weren't lobbyists or political advocates. They were just a family like yours. But they realized that our current product safety system was broken. How could a crib that had been recalled years earlier and killed multiple children still be found in a licensed childcare facility? How could manufacturers put a crib on the market without conducting proper testing?
Linda and Boaz founded KID to warn other parents about the dangers of unsafe children's products and to push for stronger standards so unsafe products don't reach the marketplace. In 2008, Danny's Law was passed as part of the landmark Consumer Product Safety Improvement Act. The section named after Danny Keysar created a requirement for stronger standards and testing of infant and children's products.
Today, cribs sold in the U.S. are made safer than ever before and we have the strongest crib standards in the world. But our fight continues to protect children from unsafe products – such as dressers that tip-over and inclined sleepers and crib bumper pads that pose suffocation hazards. A child shouldn't have to die or be injured by an unsafe product in order for safety standards to be put in place. To help us continue our fight, you can support KID by joining the KID Action Team to receive monthly emails about how you can advocate for children's product safety from your home or make a contribution in Danny's name to keep KID working hard for safety.
Danny's tragic death and legacy launched two passionate and courageous parents and countless supporters to create a safer environment for all our children.