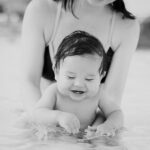 With summer approaching and temperatures rising in the midst of quarantine, household pools will become a popular way for families to have fun while staying home. However, according to the American Academy of Pediatrics (AAP), drowning is the leading cause of injury death in children between one and four. Drowning kills nearly 1,000 children every year, and 8,700 visited a hospital emergency room because of a drowning incident. In Florida, child drownings have increased by 100% between January 1 and May 10, as opposed to last year – which may be attributed to families sheltering at home and children at home instead of child care centers during COVID-19.
Children should be watched even when it's not pool time, especially now when parents may be multitasking by working from home and caring for children. Sixty percent of children who drown were not supposed to be in or around the pool when they were found in the water.
In light of national water safety month, here are some drowning prevention tips:
Pools should have a fence around them that are at least 4-feet high with a self-closing and self-latching gate.
For those with smaller pools, empty them after use.
Keep infants and young children within arm's reach around water. Inflatable arm bands or swim tubes are not lifesaving devices and should not be relied on for safety.
Door alarms, window guards, pool covers, and pool alarms can be additional layers of protection when used with a fence.
Assign an adult as the "water watcher" or "water guardian" during pool time to look after children in the pool.
Remove toys in and around the pool so a child is not tempted to venture near the pool unsupervised.
Enroll your children in swimming lessons (once social distancing guidelines allow). The AAP supports swimming lessons for most children 4 years and older, and for children 1 to 4 years of age who are ready to learn how to swim. Because children develop at different rates, they will be ready to swim at their own time.
Last year, KID honored Bode & Morgan Miller and Jonathan & Nicole Hughes at our Best Friend Award Night for their work in educating parents about pool and water safety. The Miller and Hughes families tragically lost children to accidental drowning in pools. Read more about pool safety and water guardians at Levi's Legacy and Prevent Child Injury.