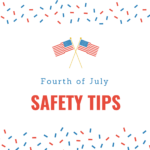 According to the CPSC, children under 15 years accounted for 36% of the estimated 5,600 fireworks-related injuries in 2018. The Fourth is just a few days away. With COVID-19 restrictions, some communities have cancelled their professional displays – making the danger of fireworks even more of an issue this year as many individuals appear to already be setting off their own. Here are some safety tips for the holiday weekend.
Sparklers can burn at 2,000 degrees and ignite clothing or cause severe burns. According to the National Fire Protection Association, sparklers account for 25% of all emergency department visits for fireworks-related injuries and are particularly dangerous for children under five. Set the sparklers and fireworks aside, and children can celebrate with other items such as bubbles, colored streamers, and flags.
Being a bystander rather than igniting the fireworks yourself still poses a risk. A CPSC study found that 65% of people injured by fireworks are bystanders. If a professional fireworks display is scheduled in your community, watch from at least 500 feet.
Check out our recent blog about summer safety tips if you're going to be enjoying the outdoors this weekend. We hope you and your family have a fun and safe holiday!
For more safety tips, follow @kidsindanger on Instagram, Twitter, and Facebook.