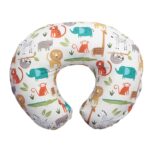 The U.S. Consumer Product Safety Commission (CPSC) recently released a warning for parents against the use of nursing pillows for infant sleep due to suffocation risk. The agency continues to investigate infant deaths associated to pillow-like products and "lounging pads" which are not designed for sleep. Bare is Best when it comes to a safe infant sleep environment.
The initial assessment of pillow-like products found death risk when children are left near or on products and the child rolls off, rolls over or falls asleep. These nursing pillow products are sold by popular brands such as Boppy, My Brest Friend, and Blessed Nest.
Boppy's user instructions outline a possible suffocation hazard and alert parents to not leave their child unattended, never allow a baby to sleep or lie face down on a pillow, and never to use in a crib, bassinet, or play yard. A study by Consumer Reports found at least 28 infant deaths related to nursing pillows and lounging pads between 2012 and 2018. The article emphasizes that due to the CPSC's inability to warn against specific brands prior to recall, parents must be particularly attentive to product hazards and instructions.
The CPSC reminds parents to not allow infants to sleep on pillow-like products and do not use infant inclined products for sleep. Follow the ABCs of safe sleep at every sleep time: 1) Baby is Alone in their own separate sleep space with nothing in the crib except a mattress with a fitted sheet. 2) Baby is placed to sleep on their Back, and 3) baby sleeps in a Crib, play yard or bassinet that meets the federal safety standard.
For more information on safe sleep, visit KID's Safe Sleep web page. Report any incidents you've had with loungers or nursing pillows to SaferProducts.gov and let us know your safe sleep tips in the comments below!