KID recently released a new study analyzing safe secondhand shopping and offering tips for buyers. Although the U.S. government made it unlawful to sell recalled products back in 2008, the threat of unknowingly purchasing such children's products from a secondhand outlet still exists. In order to help parents shop safely, KID evaluated fourteen secondhand franchises and sellers on ten different categories, ranging from product inspection policy to accountability of recalled products.
Here are our key findings:
Just Between Friends scored a ten in all ten categories. JBF has procedures in place to ensure the safety of the products they sell and provides information on child product safety such as tip-over prevention.
Cradle to College and Once Upon a Child were also found to meet require products met CPSC safety standards and have reliable inspection processes to prevent the sale of recalled products. Both outlets received an A on the grading scale.
Facebook Marketplace and Here We Grow Again scored the lowest and failed to ensure any type of product safety or recalled product sale prevention. These two outlets received an F.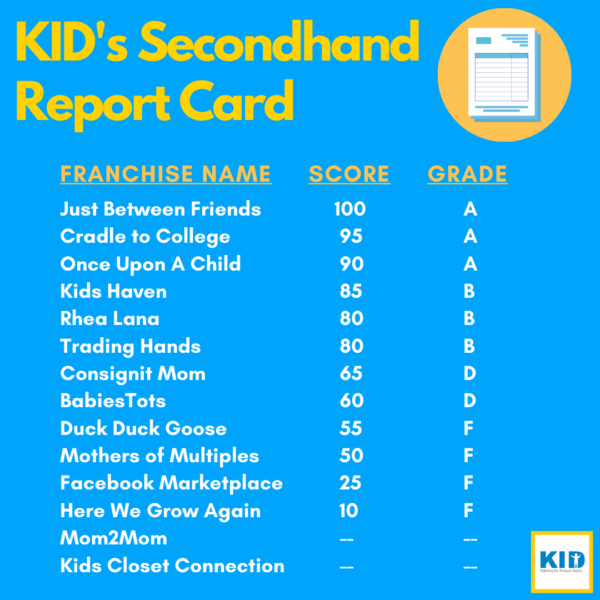 KID's recommendations for buyers:
Check the products you intend to buy on the CPSC recall database and at gov. Or use CPSC's mobile app if you're at the shop or sale.
If buying a crib, purchase one that was made after June 28, 2011, so that it adheres to the world's strongest testing standard. Check that all hardware is included, along with assembly instructions.
Even though you are buying secondhand, you can still register your products to get notification of recalls. Manufacturer registration info is here.
If purchasing furniture or TVs, request or purchase anchoring kits and install them to prevent tip-overs.
Don't buy car seats or helmets secondhand because if they've been in a crash, they will not protect your child from the next one.
Click here to read KID's full study on secondhand retailers.
What have your experiences been like at these consignment shops and sales? Let us know in the comments below!